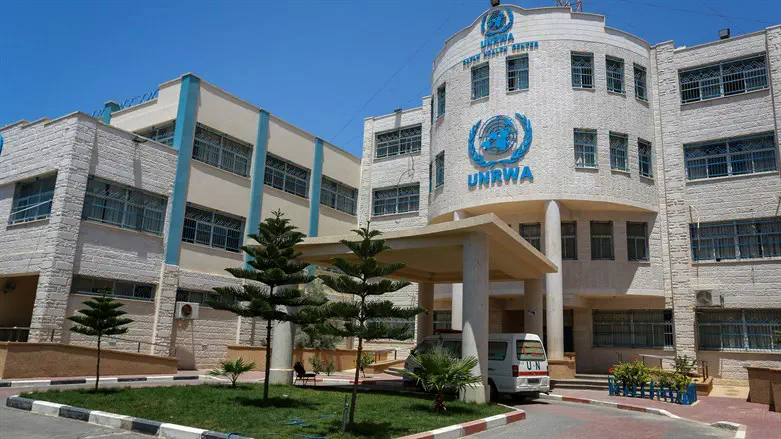 Spacious UNRWA facilities, southern Gaza
Flash 90
The United States has increased its financial support for UNRWA, the UN agency supporting "Palestinian refugees", despite concerns over the incitement against Israelis in UNRWA textbooks and schools.
The State Department confirmed on Monday that the federal budgetary support for UNRWA will reach a record $223 million in 2023, an increase of $16 million on the previous year, i24NEWS reported.
This move comes despite criticism voiced by Barbara Leaf, US Assistant Secretary of State for Near Eastern Affairs, at a recent meeting with members of the American House of Representatives Foreign Affairs Committee. During that meeting, Leaf expressed concern about reports of incitement to violence and murder in UNRWA schools.
Leaf said that the State Department was aware of these problems and was committed to resolving them, without, however, specifying the measures envisaged.
"We have concerns about curricula or classroom instruction that promote violence and terrorism. It's a work in progress, and we are committed to it," Leaf said, as quoted by Ynet.
Created in 1949, UNRWA supplies aid to more than three million of the five million registered "Palestinian refugees" in Jordan, Lebanon, Syria and territories assigned to the Palestinian Authority.
However, it is also notorious for its anti-Israel activities. During the 2014 counterterrorism Operation Protective Edge, Hamas rockets were discovered inside a school building run by UNRWA.
Likewise, a booby-trapped UNRWA clinic was detonated, killing three IDF soldiers. Aside from the massive amounts of explosives hidden in the walls of the clinic, it was revealed that it stood on top of dozens of terror tunnels, showing how UNRWA is closely embedded with Hamas.
In 2021, a UN Watch report revealed that more than 100 of UNRWA's educators and staff have publicly promoted antisemitism and violence on social media, and that on numerous occasions the agency has failed to dismiss teachers who incited such hate.
In March, UN Watch and the Institute for Monitoring Peace and Cultural Tolerance in School Education (IMPACT-se) published a report which found that teachers and schools at UNRWA regularly call to murder Jews, and create teaching materials that glorify terrorism, encourage martyrdom, demonize Israelis and incite antisemitism.
The joint report uncovered 47 new cases of incitement by UNRWA staff, in breach of the agency's stated policies of zero tolerance for racism, discrimination or antisemitism in its schools and educational materials.
The institutional teaching materials created by UNRWA's own education departments and staff include over 300 pages of content labeled for use between 2021-2023, obtained from at least five separate and freely available open-source platforms, spanning grades 5, 6, 7 and 9 across 10 verified UNRWA schools.