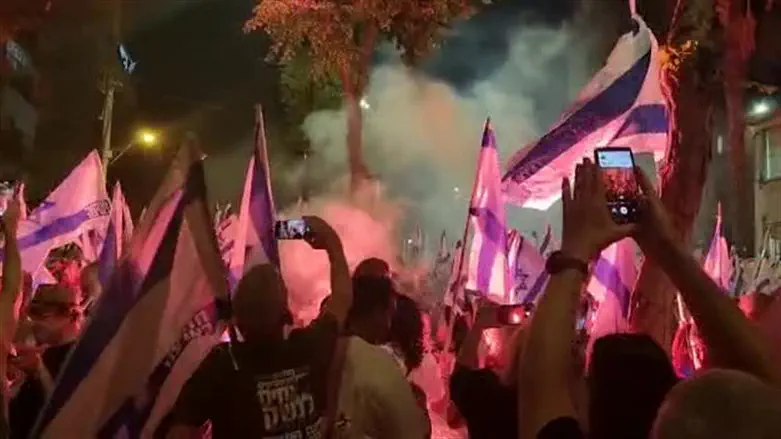 Protest in front of Petah Tikva police department
Courtesy
Dozens of people protested outside the police station in Petah Tikva following the detention of Itzik Medina, an activist against the judicial reform. After questioning he was released to his home.
According to the police, the activist was arrested due to intelligence received that he intended to carry out violent activity. The arrest was reported to have been ordered by the ISA (Shin Bet).
The 'Brothers in Arms' protest movement stated: "This is the beginning of Ben-Gvir's thought police. We warned from the moment that the most non-violent protest ever would be met with a disproportionate response by the minister of national failure. We will not allow him to create a tradition of administrative arrests against citizens who protest for the future of democracy."
The hi-tech protest organization commented: "The government of Israel wants to give Ben-Gvir the authority to order the administrative arrest of citizens. Today it's him, tomorrow it's you. Share this event and come to the station now with flags, friends and family."
Right wing protest organizations decried the incident as well, commenting: "The ISA can arrest and release a left-wing activist for 'planning violent activity' in a few hours, while the friends of victims of terror were held for days and were not permitted an attorney. Of course, the protest outside the police station had nothing to do with it."