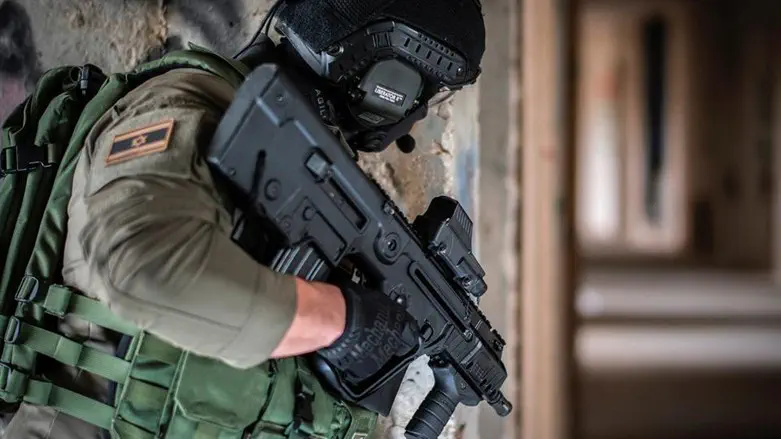 Tavor rifle
IWI
The Ministry of Defense will purchase 2,800 Micro Tavor type rifles at a total cost of approximately 10.5 million NIS from IWI - Israel Weapons Industries. The Director General of the Ministry of Defense, Colonel (res.) Eyal Zamir, approved the purchase of the weapons, which will be supplied to the infantry brigades Nahal, Golani and Givati.
רובה המיקרו תבור, נמצא בשירות המערך הלוחם הסדיר והמילואים בצה"ל משנת 2006, הינו רובה-סער בפלטפורמת בולפאפ (בו המחסנית ממוקמת מאחורי מנגנון ההדק) וכך מתקבל נשק ארגונומי וקצר עם קנה ארוך המקנה דיוק רב ומאפשר ללוחם לשמור על רמת חיילות גבוהה בשטח אורבני תוך אי חשיפה עצמית.
The Micro Tavor rifle has been used in IDF regular and reserve combat units since 2006. It is a bullpup rifle (in which the magazine is located behind the trigger mechanism) with a long barrel providing greater accuacey although the ergonomic weapon's overall length is decreased, allowing the soldier to maintain a high level of action in an urban area without exposing himself.
The current order is for the Micro Tavor model chambered for 5.56x45 mm rounds with a barrel length of 380 mm and 419 mm, with Picatiny rails that allow the use of attachments that help the user in all combat situations.
This order is to be added to other orders that IWI supplies to the IDF such as Negev machine guns and 40 mm grenade launchers that can also be mounted on the Micro Tavor.
Deputy Director and Chief Executive Officer of the Ministry of Defense, Ze'ev Landau, commented: "These days we are improving the weapons used by the infantry brigades. The order for new Tavors from the Israeli company IWI is an expression of confidence in the Israeli arms industry and will help the company start its activities at the new factory to be built in Kiryat Gat in the coming months."