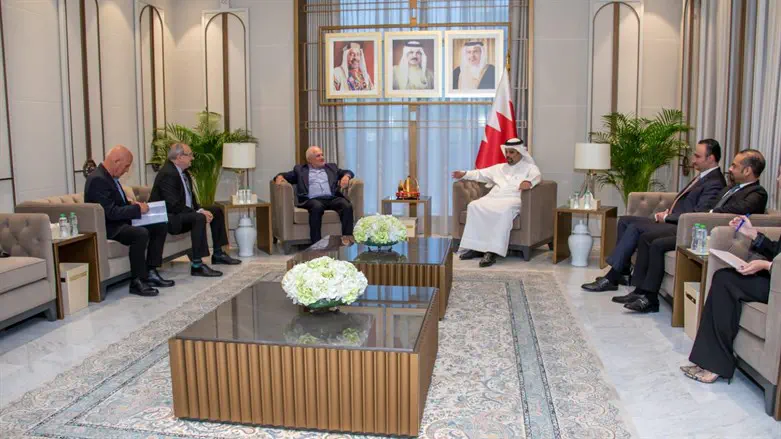 Chaim Katz in Bahrain
Svetlana Prodanova
During Tourism Minister Chaim Katz's diplomatic visit to Bahrain, a professional team was formed to promote a joint tourism package between Israel, UAE, and Bahrain.
Professional discussions between the countries' tourism ministries will launch next week and will include travel agents from Israel and Bahrain, Airline representatives, and hoteliers.
The central initiative that will be discussed is the promotion of travel packages that would include Israel, UAE, and Bahrain for the Asian market. In addition, the teams will develop steps to increase the movement of tourists between Bahrain and Israel through introductory visits for Israeli travel agents, among other things.
Tourism Minister Chaim Katz is the first minister from the current government to pay an official visit to Bahrain. Katz was accompanied by Tourism Ministry CEO Dani Shahar, Israeli Ambassador to Bahrain Eitan Naeh, Israel Hotels Union Chairperson Eli Cohen, and Saar Fuchs Zwik, Deputy Chairperson of the Israeli Travel Agents Union.
"I wish to thank all who are part of this important initiative. This move will advance regional tourism and strengthen the presence of tourists from Asia in Israel. In Bahrain, we were met with a will for cooperation. We will work to realize the potential of tourism between the countries and to strengthen the connection between the nations," Minister Katz remarked.