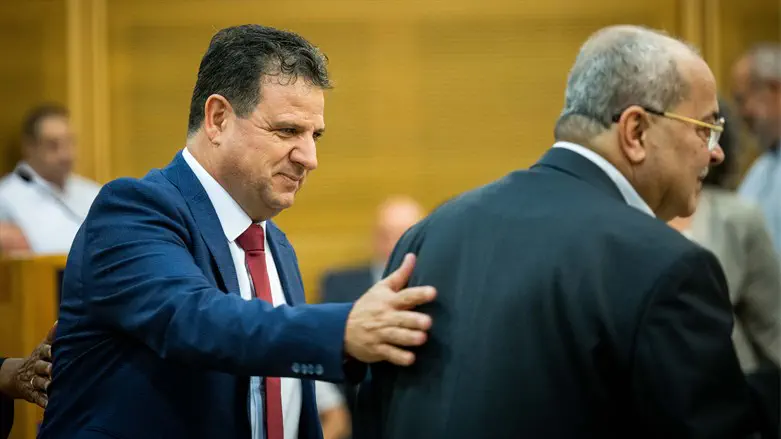 Odeh and Tibi
Yonatan Sindel/Flash 90
The Hadash and Ta'al parties, led by MK Ayman Odeh and MK Ahmed Tibi, on Monday issued a joint statement condemning the IDF operation in Jenin, in which five Palestinian Arabs were killed, among them Islamic Jihad terrorists, and eight soldiers were wounded.
The statement warns of the "dangerous escalation led by the fascist Netanyahu-Ben-Gvir-Smotrich government" against the Palestinian Arab people through the continuation of the "policy of (military) invasions and killings started by the previous government", culminating "in the invasion of the city of Jenin and the (refugee) camp and the carrying out of war crimes".
The statement added that this is in fact a "warlike invasion and real terrorism against civilians" which "is reminiscent of the criminal invasion and massacre that the government tried to carry out and hide in 2002." This is a reference to Operation Defensive Shield, a large 2002 IDF counterterrorism operation in Judea and Samaria which was carried out amidst the Second Intifada and lasted for just over a month.
The Hadash and Ta'al parties placed full responsibility on the Israeli government for what they described as "the shedding of the blood of the Palestinian victims alongside the other war crimes", and justified the right of the Palestinian Arab people to fight against "the occupation".
In addition, Hadash and Ta'al pointed out that it is not possible for democracy to be a monopoly for Jews only, therefore "there is no democracy with the occupation".
Both Odeh and Tibi are known for their anti-Israel rhetoric, despite being elected members of the Israeli Knesset. Odeh last year called on young Arabs not to enlist in the "occupation army". Following backlash, he claimed his remarks were mistranslated.
Tibi has praised the Palestinian Authority's "martyrs" at a ceremony held on the occasion of "Palestinian Martyrs Day" and sponsored by Palestinian Authority chairman Mahmoud Abbas.
He was recently warned by the Knesset's Ethics Committee not to get into confrontations with police officers while exploiting his immunity as a member of the Knesset.
The warning followed a complaint that was filed with the Ethics Committee after Tibi confronted police officers and "rescued" from them a young Arab man who was detained for questioning for disorderly conduct in a neighborhood in northern Jerusalem, where the coffin of slain Al Jazeera journalist Shireen Abu Aqleh was brought last May.