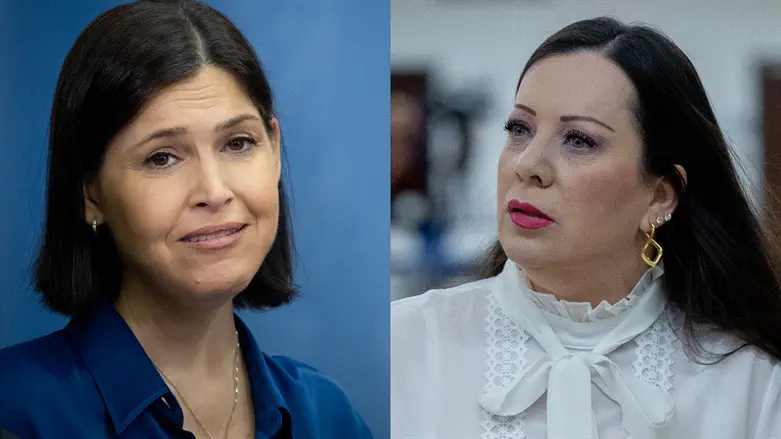 Tali Gottlieb and Karin Elharrar
Yonatan Sindel/Flash90
MK Karin Elharrar (Yesh Atid) was elected today (Wednesday) to the judicial selection committee, the committee which chooses the justices who serve on the Supreme Court. Elharrar's election gives the opposition the representative it seeks on the committee.
58 MKs voted in favor of Elharrar's appointment in a secret ballot today, while 56 voted against her. Four members of the coalition voted in favor despite the call of the coalition and Prime Minister Benjamin Netanyahu to oppose all candidates in order to force a new vote 30 days from now.
The coalition's representative to the committee will be elected in a repeat election to be held within thirty days after Likud MK Tali Gottlieb obtained only 15 votes in favor of her selection while 59 MKs voted against her.
Coalition MKs reacted angrily to the vote, calling it a "shame."
Yisrael Beyteinu chairman MK Avigdor Liberman slammed the coalition's conduct. "Today a new record of contempt for the Knesset has been set. Netanyahu and Deri have created a crazy precedent, which first of all harms Israel's economy, Israel's position in the world and the legal system and sends Israeli society into an impossible spiral."
"There is no consideration for the good of the state here, nor the good of the people of Israel, only the personal good of Netanyahu and Deri. The failure of the vote today is intended to allow the coalition to take over the committee for the appointment of judges and the central election committee. I call on my friends in the opposition to stop being silent and immediately announce the end of the talks at the President's Residence," Liberman added.
Opposition leaders had threatened to end the negotiations for a compromise on the judicial reform issue if the coalition received both Knesset representatives on the judicial selection committee.