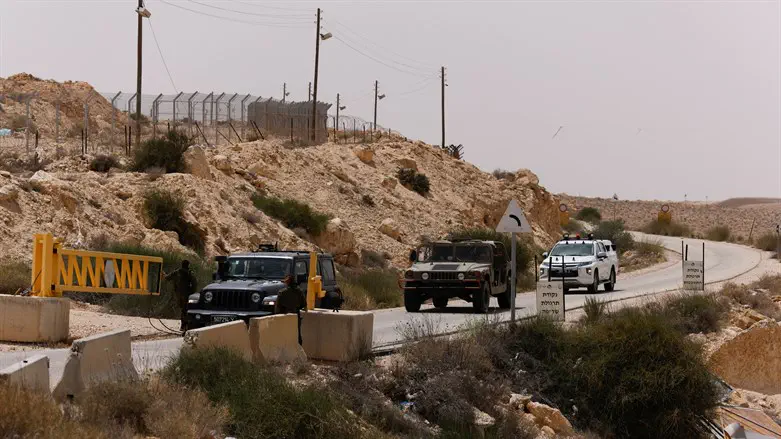 scene of the attack
Amir Cohen, Reuters
The IDF Chief of Staff's office will release the initial results of the investigation into the terrorist attack at the Egyptian border in which IDF soldiers Lia Bin-Nun, Ori Yitzhak Illouz, and Ohad Dahan were murdered by an Egyptian police officer a week ago.
The investigation has found a series of failures at all levels, including the command and operational levels. Another pair of soldiers were 200 meters from the spot where Bin-Nun and Illouz were killed but did not report the gunshots because the sound of gunshots is common in the area and because they apparently thought it was the wind.
It was also found that the soldiers in the guardpost which was attacked did not realize that the opening through which the terrorist shot them was sealed with only a piece of nylon. It is unclear who approved a 12-hour watch in the guardpost.
The findings will be presented to the Chief of Staff who will have to determine how severe the punishments for the failures will be and whether they will be limited to the junior ranks or rise to the ranks of division commander and above.
On Friday, IDF soldiers foiled an attempt to smuggle millions of shekels worth of drugs from Egypt into Israeli territory.
IDF and Israel Border Police forces were dispatched to the scene and pursued the smugglers. The soldiers apprehended two suspects.
During the pursuit, the soldiers located and confiscated bags containing 21 kg of drugs believed to be marijuana, worth approximately 2.35 million NIS, and 26 kg of drugs suspected as hashish worth approximately 2.35 million NIS.