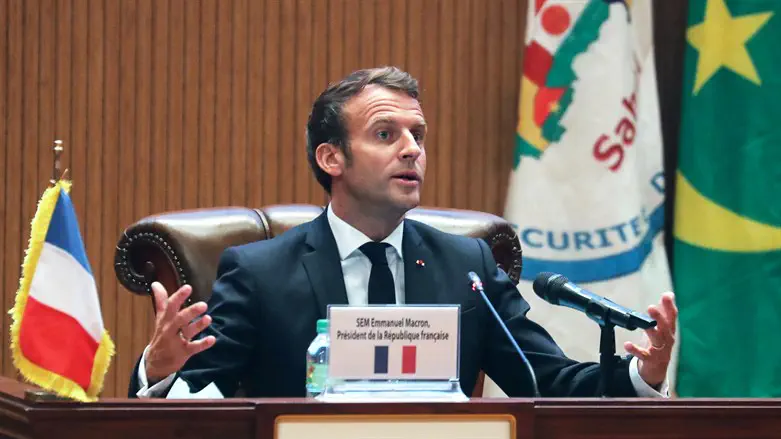 Emmanuel Macron
Reuters
French President Emmanuel Macron on Saturday urged his Iranian counterpart, Ebrahim Raisi, to "immediately end" Tehran's support for Russia's invasion of Ukraine, which involves supplying Moscow with attack drones, the Elysee said, according to the AFP news agency.
Macron, in a telephone call with Raisi, underlined the serious "security and humanitarian consequences" of Iran's drone deliveries "and urged Tehran to immediately end the support it thus gives to Russia's war of aggression against Ukraine," said a statement quoted by AFP.
The conversation comes a day after a US intelligence finding found that Iran is providing Russia with materials to build a drone manufacturing plant east of Moscow.
National Security Council spokesman John Kirby said US intelligence officials believe a plant in Russia's Alabuga special economic zone could be operational early next year. The White House also released satellite imagery taken in April of the industrial location, several hundred miles east of Moscow, where it believes the plant "will probably be built."
Last year, the US said it had intelligence indicating that Russia is looking to Iran for UAVs.
Later it was reported that Iran had begun training Russians to use its drones, though it was also noted that Russia is experiencing "numerous failures" and technical glitches with the drones it purchased from Iran.
Last September, Ukraine reported the first Russian attacks carried out using Iranian-made drones, targeting the south of the country, including the strategic city of Odessa on the Black Sea.
In response to Iran's aid to Russia, Ukraine's parliament recently approved a 50-year sanctions package against Iran.
Ukrainian President Volodymyr Zelenskyy blasted Iran over its supply of drones to Russia, saying Tehran's "support for evil cannot be denied" and appealed directly to Iranians, asking: "Why do you want to be accomplices in Russian terror?"
Responding to Zelenskyy's comments, Iran's foreign ministry spokesman Nasser Kanani said that the Ukrainian President "repetition of false claims" against the Islamic Republic was "in harmony with the propaganda and media war of the anti-Iranian axis."
"It is done with the aim of attracting as much military and financial aid from Western countries as possible," Kanani said. Ukraine, he added, had "specific political goals and motives behind such accusations" and was "avoiding expert negotiations with the Iranian side to investigate the claims."