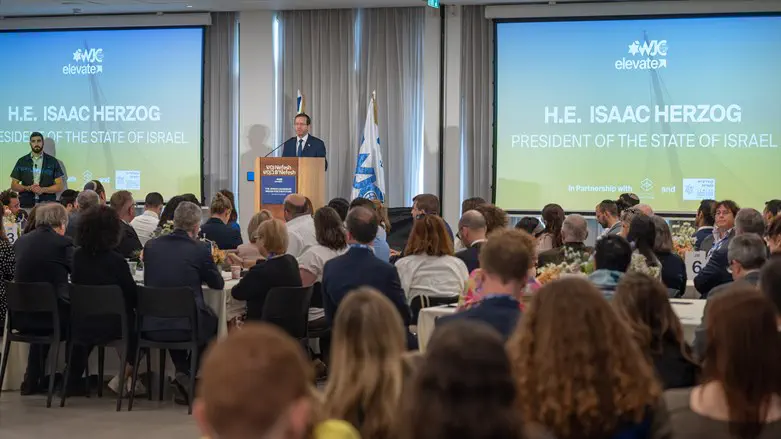 WJC meeting in Jerusalem
Shahar Azran
Over 120 distinguished Jewish leaders from 50 countries and a corresponding group of more than one hundred young Israelis gathered in Jerusalem for a meeting with Israel's President Isaac Herzog as part of the World Jewish Congress' (WJC) Jewish Leadership Bridge for the Future.
Herzog warmly welcomed the group, declaring, "The Jewish people throughout the globe — our Jewish Diaspora — have contributed immensely to this nation-building project that is Israel."
"To that end, these very days, I have launched the Voice of the People Initiative, the President's Initiative for Worldwide Jewish Dialogue, which I call in Hebrew 'Kol Ha'am Siach Yehudi Olami,'" he explained in his keynote address to the group on Thursday morning which focused on finding points of commonality between Jewish communities.
"It is designed to be a platform where we can convene together as a people to hear each other, to plan together, to engage and to strategize on all of the major issue affecting our people. And I believe it holds great potential to mark a new stage in the evolution of the global Jewish conversation," explained President Herzog.
World Jewish Congress President Ronald S. Lauder underscored the importance of the gathering in comments from New York.
"Amid challenging times for the Jewish people worldwide, and in Israel, it's more important than ever that we recognize what unites us as a people. I thank President Herzog for his dedicated leadership in working to bridge divides between our communities so that we may be able to to stand stronger together for years to come," he said.
The WJC delegation, traveling between Jerusalem and Tel Aviv for activities, is composed of members of the global organization's Executive Committee, Jewish Diplomatic Corps, Lauder Fellowship, and other leading student organizations such as the European Union of Jewish Students, and World Union of Jewish Students. Tabbed as the Jewish Leadership Bridge for the Future, the group which also includes Israelis was brought together in collaboration with the Jewish Peoplehood Coalition powered by Reut to discuss issues of concern to world Jewry and formulate common actions to foster Jewish unity. The three-day program placed an emphasis on building bridges between Israeli and Diaspora thought leaders through in-depth sessions.
Among the highlights was a visit to Israel's Ministry of Foreign Affairs for meetings with senior officials including Shuli Davidovich, the Head of the Bureau for World Jewish Affairs and World Religions, who led an insightful session focused on global and regional issues of concern to world Jewry, ultimately revealing an enriching roadmap towards a shared future. The group also met with leaders of Israel's civil society and business sectors.
Adding a vibrant cultural element to the program was The Bridge Benefit Concert at the Tel Aviv Museum of Art on Wednesday evening. The remarkable event, co-organized by the WJC and the Jewish National Fund-USA, brought together hundreds to witness performances by the world-renowned composer Gil Shohat accompanied by the talented Daniella Lugassy, Cabra Casay, and Shahar Edwi as well as a special appearance by singer and songwriter Nicole Raviv and winners of WJC and JNF-USA's Narrow Bridge Song Competition. The initiative showcased the power of music in unifying diverse communities and fostering cross-cultural understanding, a testament to the resilience and strength of the Jewish Diaspora.
The Jerusalem delegation came on the heels of WJC's 2022-2023 Lauder Fellows convening in Brussels for the second annual Diplomacy Summit. This transformative summit saw 22 Lauder Fellows from 12 countries engage with influential figures from the European Parliament, the European Commission, and NATO. This European endeavor served as a powerful precursor to the historic mission in Israel, reinforcing the global reach and impact of the World Jewish Congress.