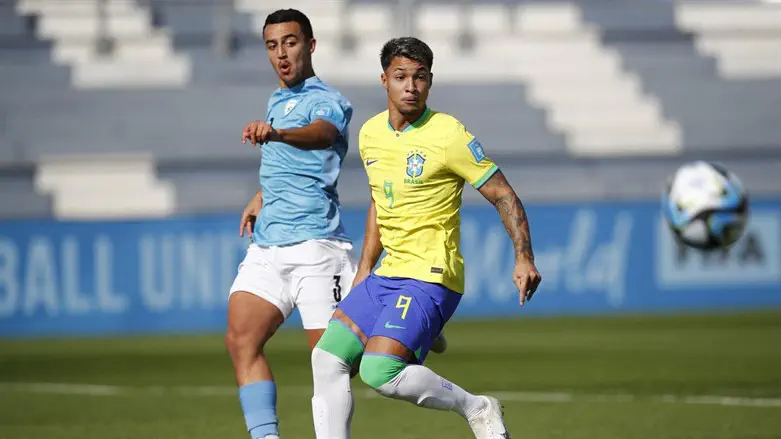 Team Israel playing Brazil last weekend
Reuters
Sports websites in Iraq reported the results of the Mundialito FIFA U20 World Cup but omitted the name and flag of Israel when they came to report on the achievements of the Israeli national team.
On Saturday night, Israel's youth soccer team stunned the world by eliminating the Brazilian team in the quarterfinals of the FIFA U20 World Cup with an overtime score of 2:3 after previously achieving a come-from-behind victory in the last group game against Japan. Israel qualified for the semi-finals against the Uruguayan team.
The Iraqi sports websites reported the victories alongside an elaborate graphic design but did not specify who the winning team was. For example, after the quarter-finals of the World Cup, in which Israel defeated Brazil 3:2, the Iraqi Sport website reported the results of Brazil's match against an anonymous team.
Even in the report for the semi-finals that will take place tonight, the Uruguayan flag was shown, but the name of the team it would play against was not mentioned, and the flag was not shown. Arab-Israeli advocacy activist Yoseph Haddad wrote yesterday on his Instagram account: "Let them continue to make fools of themselves and try to make the Israeli flag disappear and ignore the State of Israel, and God willing, the youth team will make them continue to embarrass themselves, tomorrow."