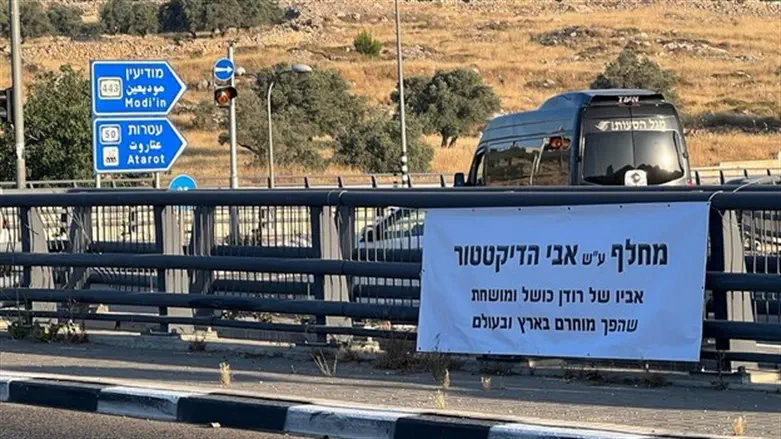 The banner that replaced the monument
Elite Unit Veterans protest organization
Protesters against the government have stolen another memorial monument, this one to Benzion Netanyahu, a noted Israeli historian and the father of the current Prime Minister. A banner was left declaring that the monument, and the interchange named for the same individual, had been renamed "Father of the Dictator Interchange."
"This junction is named for the father of a failed and corrupt authoritarian, who has become unwanted in Israel and the world," the banner declares.
Prime Minister Netanyahu denounced the action: "Despicable people today desecrated the monument in memory of my father, the late historian Prof. Benzion Netanyahu. We have filed a police complaint. It's time for them to stop trampling every norm of decency and common sense."
National Unity leader MK Benny Gantz condemned the incident as well: 'I strongly condemn the hanging of the sign that dishonors the memory of Prof. Benzion Netanyahu, the Prime Minister's father. Even in the midst of a justified protest like no other, it is important that we preserve the honor of the dead and the legacy of individuals who contributed to the State of Israel," Gantz wrote on Twitter.
This incident is the latest in a series of similar thefts as part of the protests against the current government. Other monuments taken have included tanks, armored personnel carriers, and artillery pieces used to commemorate various wars.