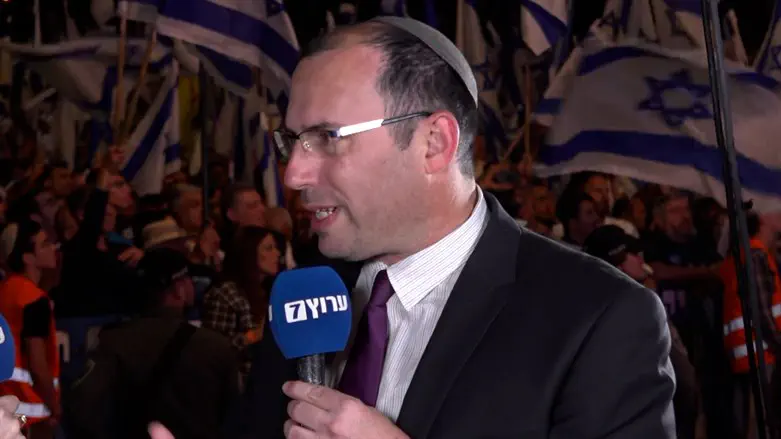 MK Rothman
Israel National News
The media discourse surrounding MK Simcha Rothman's participation in the event held last night to celebrate Israel's 75th anniversary is causing great distress to its organizers at the Israeli Embassy in Washington.
The embassy published a statement saying: "Yesterday, a huge and unprecedented demonstration of support for Israel took place in Washington. About 2,000 guests participated, including dozens of members of Congress, senators, and senior officials of the American government, headed by the vice president, who gave a warm speech in support of Israel at the event. Dozens of foreign ambassadors were also present, including Arab ambassadors and senior members of the Jewish, business and civil society communities in Washington, and many journalists. This is the first time that an event of this magnitude has been held in Washington. The scope of participation and the fact that the Vice President chose to honor us with her presence throughout the event testify to the strength of the relationship between Israel and the US."
The embassy noted that the media's reporting on the event ignored the above to focus on the attendance of MK Rothman, one of the architects of the judicial reforms the Israeli government attempted to pass earlier this year. "In light of the publications in the media, we would like to clarify: shortly before the event, the Foreign Ministry informed us that MK Rothman contacted them and informed them that he intended to come to Washington (the embassy did not know about this) and asked to be invited to the embassy's event. Accordingly, the Foreign Ministry requested that he be invited. Naturally, the embassy contacted the MK and invited him to the event. We are sorry that the public discourse over this event, which brought a lot of honor to the State of Israel, is focused on the question of the presence of MK Rothman."
"The Israeli Embassy is not a political entity and requests that it not be dragged into a political discussion. It represents the State of Israel in a diplomatic manner and treats the elected officials of the State of Israel accordingly," the embassy said.