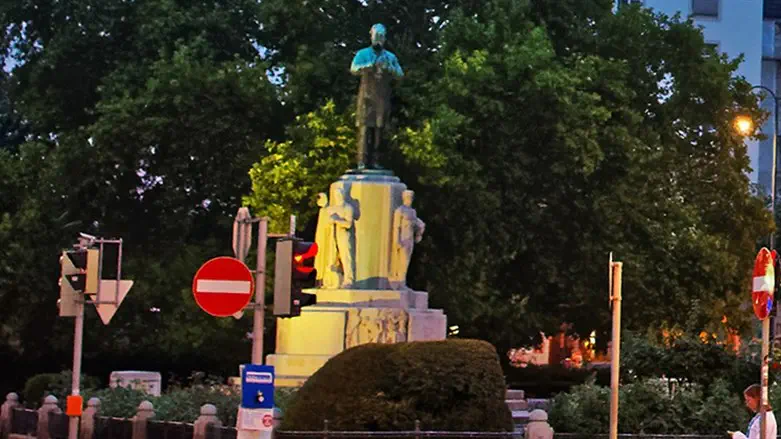 The Karl Lueger statue in Vienna
ISTOCK
The city of Vienna has decided to tilt a statue of former antisemitic mayor, in an effort to cast the mayor's legacy in a new light, without removing the monument.
Late Wednesday, the city's Twitter account announced that as state of Mayor Karl Lueger will be tilted 3.5 degrees to the right, adding an illustration of how the alteration will impact the appearance of the statue.
However, Jewish leaders are criticizing the move, call it insufficient, giving Lueger's legacy.
Karl Lueger served as Vienna's mayor for 13 years until his death in 1910. He was known for his openly antisemitic rhetoric, which is believed to have influenced Adolf Hitler during his time in Vienna. Hitler expressed "undisguised admiration" for Lueger in his book Mein Kampf.
Located in the city center's Dr. Karl Lueger Platz, the statue has been a target of vandalism for years, with protesters calling for its complete removal. In 2020, the city installed fencing to deter individuals from spray-painting it.
Viennese artist Klemens Wihlidal proposed the idea of a slight tilt, scheduled to take place sometime in 2024. In a press release, Wihlidal stated that he intends to create a sense of unease or insecurity, which might only become noticeable upon a second look. He hopes that viewers will perceive the statue as if it is "about to topple over or at least expect that it won't stand for much longer."
Oskar Deutsch, president of the Jewish Community of Vienna, told CNN that removing the statue "would be more appropriate and in line with a sincere culture of remembrance," adding that "squares, streets, bridges and other monuments are still named after antisemites all over Austria."