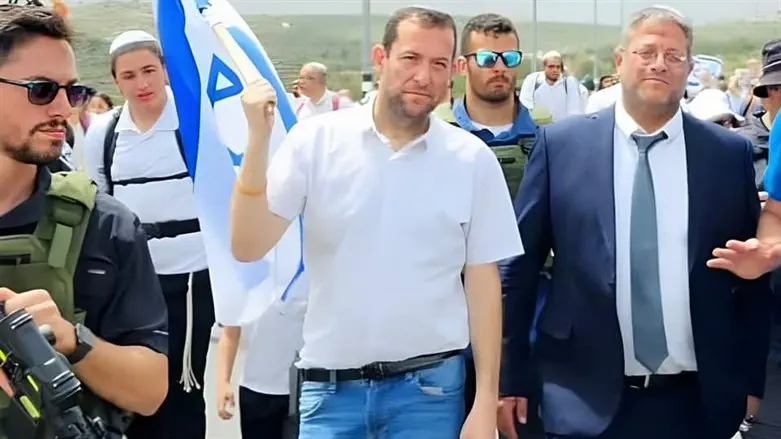 Yossi Dagan and Itamar Ben-Gvir
Samaria Council spokesperson
Samaria Regional Council chairman Yossi Dagan thanked National Security Minister Itamar Ben-Gvir for the outline he published expanding the right to obtain a firearm license. Under the new regulations, anyone who served in a combat unit in the IDF will be able to obtain a firearm license, even if they received a medical discharge from the army due to injury.
The changes will allow a greater number of students of Hesder yeshivas and volunteers with the Magen David Adom medical organization to obtain firearm licenses.
In an interview with Galai Tzahal (IDF Radio), Dagan explained that the approach presented by Minister Ben-Gvir is "the correct and balanced approach because in the State of Israel there is a criminal and security struggle, and we want as many people as possible who are suitable and worthy to own personal weapons." On the other hand, Dagan noted that the criteria for firearm licenses should not be softened so much that anyone could obtain one.
He described the absurd situation in Israel: "Until now, only a soldier at rifleman level 07 can get permission to possess a weapon, but soldiers who serve in armor or artillery, or even leaders of a group of tanks that have significant firepower, who in the reserves receive M-16s and command soldiers, they could not own a personal weapon. Or for example, a student of a Hesder yeshiva who was in the army as a soldier or an officer, and returned to the yeshiva and is supposed to return to the army one more time later in the service, while he is in the yeshiva and is defined as a soldier in the midst of unpaid service - he cannot receive a weapon."
Dagan dismissed the claims by some left-wing activists that there is no data showing that armed civilians have prevented or ended terrorist attacks. "There are many examples in which citizens saved their lives and the lives of those around them with a personal weapon that they possessed. David Stern of Itamar, for example, was driving on the Huwara road, and at the same place where the late Hallel and Yagel Yaniv were murdered and attacked by a terrorist with gunfire. He was attacked, but he was armed and had a gun and he was also in the Marines in the United States and was in the reserve unit in Samaria, so he pulled out the gun and wounded the terrorist and shot him and wounded him, saving his life and the life of his wife, and after that the soldiers who were there ultimately ended the attack."
He further cited examples where no civilians were armed during terrorist attacks, which ended with significant casualties, such as the murder of seven worshippers outside a synagogue in the Neve Ya'akov neighborhood of Jerusalem in January.
"The situations turned out better when there were more gun owners. People who were soldiers or officers in the army or Hesder students, people who do not have a criminal record, who do not have a psychiatric history. There is no difference between rifleman level 05 and rifleman level 07, so Minister Itamar Ben-Gvir is right. This move will strengthen the security of the State of Israel. There are so many illegal weapons that are smuggled here, not only to Judea and Samaria but everywhere. In the end, this is a decision that balances the needs of security with the need to prevent illegal use, this is an important decision for the security of Israel," he concluded .