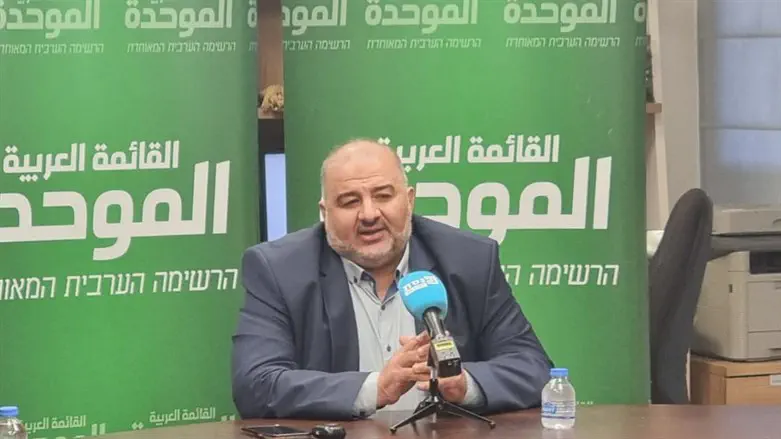 Mansour Abbas at Ra'am faction meeting
Hezki Baruch
MK Mansour Abbas, chairman of the Ra'am Party, claimed on Monday that National Security Minister Itamar Ben Gvir withdrew police forces from the Arab communities.
In response to a question from Israel National News, Abbas commented on the violence in Arab society and the claim that the leaders of the Arab community are not interested in a meeting with Ben Gvir.
"Ben Gvir does not want to meet with us and has paralyzed the entire system and pulled police forces from the Arab communities to other communities, so the result is terrible, and we are paying in human lives, the numbers speak for themselves," he claimed.
Responding to accusations by Ben Gvir that the Arab MKs are voting against legislation that will allow police to search for illegal weapons without a warrant, in order to crack down on illegal weapons trafficking in Arab communities, Abbas said, "He is constantly lying about this, we support any proportionate step that will lead to the eradication of crime in the Arab sector."
Later on Monday, at a Ra'am faction meeting, he commented on Ben Gvir's appointment of a project coordinator to combat violence in Arab society and said, "When Netanyahu appointed Ben Gvir, I said to a senior Likud official, 'You cannot entrust security to someone who has not come into contact with Arab society, neither with Knesset members or leaders of local authorities and has no relation to the sector.'"
"If you really want to promote the appointment of a project coordinator, it is important that he be someone who is able to work with Arab society and not a copy of Ben Gvir," added Abbas.