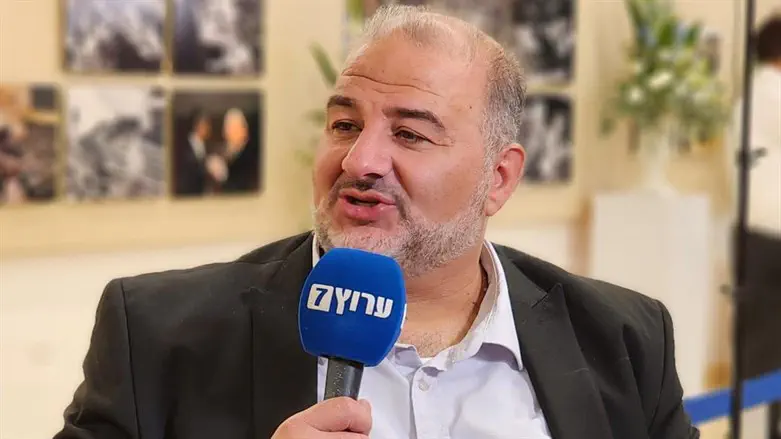 Mansour Abbas
Israel National News
Arab MKs are expected to meet this evening (Monday) with Prime Minister Benjamin Netanyahu to discuss ways of clamoring down on violence in the Arab sector.
"One of our demands before the meeting with the Prime Minister is for Ben-Gvir to be fired. He is not suitable for his position," MK Mansour Abbas, chairman of the United Arab List (Ra'am), was quoted as telling Channel 12 News.
He later said that it is not certain that his party would show up for the meeting at all. "It is not certain that we will participate in this meeting. We have [prior] demands," said Abbas.
According to journalist Muhammad Majadala, the Arab parties claimed that the Minister of National Security will not be present at the meeting since, "Neither we nor Netanyahu are interested in him being there."
Mansour Abbas had previously agreed to Netanyahu's invitation in an interview on Kan Reshet Bet. "We intend to visit the Prime Minister's office. We will bring plans to eradicate crime in Arab society. We have started to coordinate [this effort] with other Arab MKs."
During his Knesset speech last week, the Prime Minister invited Arab MKs to participate in a discussion of the issue.
"I invite all the Knesset members from the Arab factions to my office. This is not a ploy. It comes from the bottom of my heart. We will have to act on many fronts and I will need your cooperation. I'm looking forward to this meeting," said Netanyahu.
"I have heard MK Suleiman and the Arab MKs pleading for something to be done about crime in the Arab community," he continued. "I've also heard that things have changed over the years. I headed efforts to establish nine police stations under my previous governments - in [the Arab-Israeli villages of] Ar'ara, Kfar Qasim, Jessar, Tamra, Kafr Kanna in the Western Galilee, Tira and five others. It did not tip the balance. The problem you're alluding to is real."
MK Ahmed Tibi approached the speaker's stand to address Netanyahu after other MKs had side-tracked from the discussion on violence in the Arab sector. "You answered seriously at the beginning. You heard our pleas. This is serious. Now we are talking about blood being spilled in the streets," he was quoted as telling the Prime Minister.