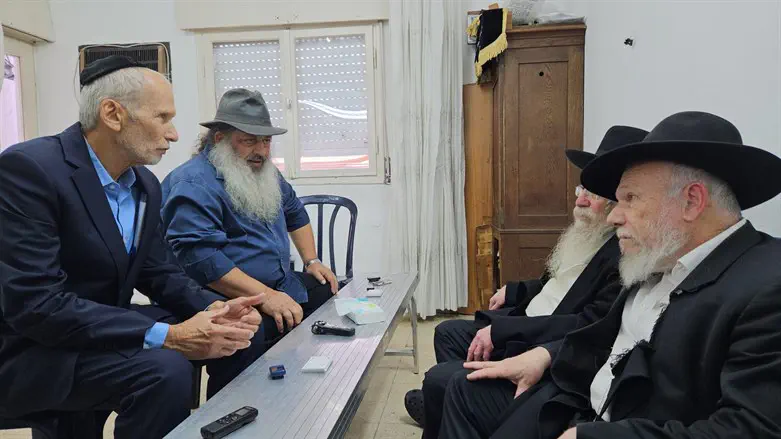 Omer Bar Lev (l) and Yaron Angel (r) visit Rabbi Edelstein's family
Spokesperson
Israel's largest bread producer offered its apologies to the family of Rabbi Gershon Edelstein, in the hopes of ending the ongoing haredi boycott of the company.
Last month, haredi consumers began boycotting the Angel Bakery, Israel's largest bakery company, after the company's chairman of the board of directors – former Public Security Minister Omer Bar-Lev – joined a protest outside of Rabbi Edelstein's home.
The demonstration, which was held in protest of plans by the government's haredi partners to pass a new haredi draft bill, was widely seen in the religious sector as an affront to the centenarian rabbi, who was until his death last Tuesday was the spiritual leader of the Lithuanian haredi community.
Haredi schools and yeshivas quickly halted their purchases of Angel Bakery bread, and haredi consumers turned to the company's competitors for baked goods, leaving some stores in haredi strongholds such as Bnei Brak unable even to give away left-over loaves of Angel bread.
On Sunday, company executives made an overture to the Edelstein family, with Bar-Lev and company CEO Yaron Angel making a condolence call to the late rabbi's bereaved family in Bnei Brak.
According to a report by Kan, the meeting was arranged with the help of President Isaac Herzog.
At the end of the visit, Bar-Lev gave the family a letter formally apologizing for having protested outside of Rabbi Edelstein's home.
"I view the existence of the Torah and its students as an important value in Jewish tradition, that is not what I protested against," wrote Bar-Lev.
"If I had been made aware of the situation we found ourselves in, and the perceived offense, I surely would have refrained from this action. For this, I am sorry and apologize sincerely."
Angel had initially denied claims the boycott had hurt its overall sales, claiming that 'buycott' efforts by left-wing opponents of the judicial overhaul to support the company had more than compensated for the haredi boycott.
The company's CEO, Yaron Angel, penned his own apology for initially ignoring the boycott.
"We should have said this immediately after the protest and expressed our sorrow."
"In real-time, we thought such a reaction would involve the firm in political matters in which, for decades, we have not wanted to get involved. But this silence was interpreted as a further insult. We are sorry for this and apologize wholeheartedly."