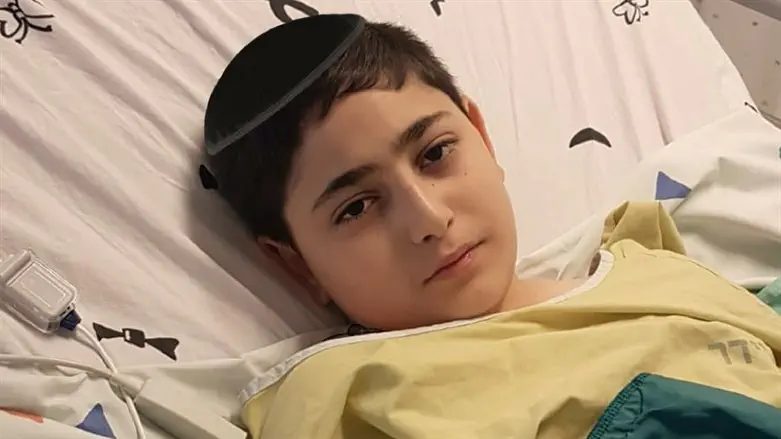 Nesanel
IJCF
Nesanel, an Orphan with a Fragile Heart, Seeks Support for Life-Changing Surgery
In a story marked by resilience and unwavering courage, young Nesanel, an orphan since birth, is reaching out to readers for assistance as he battles a severe heart defect that has defined his life since his earliest days. His journey has been one of continuous medical interventions, surgeries, and a relentless fight for survival.
Born without the love and care of his parents, Nesanel's life hung in the balance within hours of his birth. Thanks to the quick thinking of a vigilant staff member who noticed his blue complexion, Nesanel was swiftly connected to oxygen, saving his precious life. However, this was only the beginning of his arduous journey.
Help Nesanel Overcome Life-Threatening Surgeries and Find Hope
Within the first day of his existence, scans unveiled the heartbreaking truth—Nesanel suffered from a serious heart defect. At a mere one day old, he was already an orphan facing a life-threatening condition. At just two weeks old, he underwent a high-risk open-heart surgery in a bid to correct the defect. Tragically, the surgery was unsuccessful, and in the following month, Nesanel endured multiple surgeries, each carrying its own set of risks and life-saving potential.
Today, at the age of 11, Nesanel's childhood has been marred by constant hospitalizations, surgeries, medications, and treatments. Each operation exposes him to excruciating pain, weakness, and the paralyzing fear of death. This story not only focuses on Nesanel but also sheds light on his young mother, who has single-handedly raised her orphaned and chronically ill son. She remains a steadfast presence, anxiously waiting outside operating rooms, seeking updates on her son's condition, and enduring the weight of financial strain to cover his extensive medical expenses.
Every surgery leaves Nesanel bedridden for a month, as his young spirit remains confined while his peers run, play, and learn. Instead, he bravely battles fear, pain, and isolation, displaying a maturity and positivity that touches the hearts of all who encounter him.
With each surgery, Nesanel's mother stands vigilantly at his bedside, diligently watching for any signs of sudden deterioration or organ failure. She sacrifices her own ability to work and provide for her family during these critical recovery periods. The harsh reality is that if she is not by Nesanel's side, there is no one else who can fulfill this crucial role.
Nesanel's awareness of his own fragility weighs heavily upon him, reminding him that his life is not like that of his peers. Despite this burden, he faces his fears head-on, demonstrating extraordinary strength and resilience that move all who witness his journey.
Currently, Nesanel awaits his next surgery—a costly and perilous procedure that could change the course of his life. A successful outcome would grant him several years without the need for further surgeries. It would offer him the opportunity to focus on rehabilitation, education, and forging friendships with other boys, allowing him to experience life without the constant fear for his own existence.
Nesanel and his devoted mother implore us to lend a helping hand in their time of need. Their plea is one for hearts and hands, as they seek the support and compassion of others to ensure Nesanel's access to a brighter and happier future.
Help together to make a difference in Nesanel's life, offering our support, love, and resources. By extending our hearts and hands, we can provide Nesanel with the chance to overcome his challenges and embark on a path filled with hope and newfound opportunities.
Help Nesanel Overcome Life-Threatening Surgeries and Find Hope