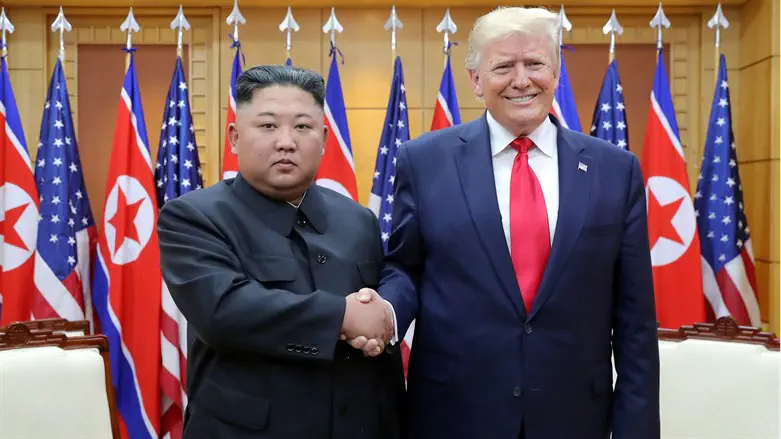 Kim Jong Un and Donald Trump
Reuters
Several Republican presidential hopefuls on Saturday blasted former US President Donald Trump for his comments praising North Korean leader Kim Jong Un, after the country received a seat on the World Health Organization's (WHO) executive board.
"Congratulations to Kim Jong Un," Trump said in a post to his Truth Social account on Friday, while sharing an article about the news.
Former Vice President Mike Pence, former US ambassador to the United Nations Nikki Haley and Florida Gov. Ron DeSantis all criticized the former President, who they will be challenging for the 2024 Republican presidential nomination. The Hill reported.
"No one should be praising the dictator in North Korea or praising the leader of Russia who has launched an unprovoked war of aggression in Ukraine," Pence told Fox News on Saturday. "This is a time when we ought to make it clear to the world that we stand for freedom and we stand with those who stand for freedom."
Pence has not yet officially announced he will seek the 2024 Republican nomination, but is expected to do so next week.
Haley, who has already officially launched her campaign, denounced North Korea's ascension to the WHO board on Friday, calling it a "total farce."
"You don't congratulate a thug," she added when asked about Trump's comment. "I mean, let's keep in mind, this thug has threatened America, has threatened our allies, over and over again."
"This is not something to play with," Haley continued. "I mean, he's a terrible individual. He's terrible to his people, he's terrible to our allies in the world, and I don't think he deserves congratulations."
DeSantis, who officially joined the Republican field late last month, said he was "surprised" to see Trump's congratulations to Kim, who he described as a "murderous dictator."
Trump has previously touted his relationship with Kim, telling Washington Post journalist Bob Woodward that the two had "good chemistry."
Trump tried to reach a denuclearization agreement with North Korea while in office. Kim and Trump met three times, the last time being in Hanoi in 2019 for a summit, but made little progress towards denuclearization.
The Biden administration reached out to North Korea shortly after taking office, but the country did not respond to those overtures.
In Biden's first policy speech to Congress, he said nuclear programs in North Korea and Iran posed threats that would be addressed through "diplomacy and stern deterrence".
Responding to that speech, North Korea dismissed the idea of talks with Washington, saying Biden's speech was "intolerable" and "a big blunder."
During the Biden administration, North Korea has intensified its missile launches, including a failed launch of a "space satellite" this past week.