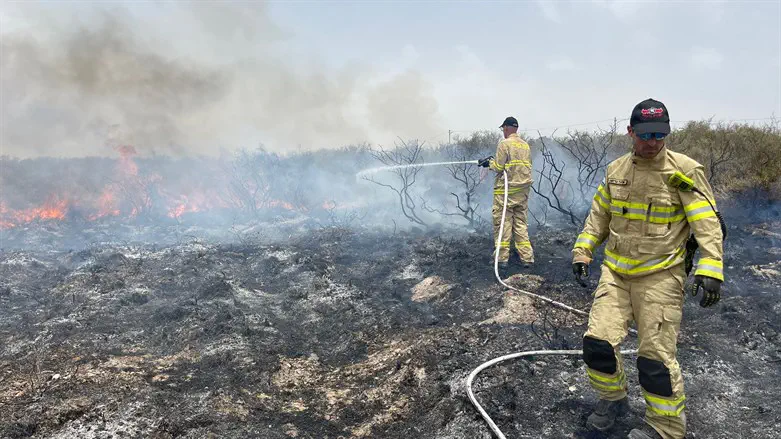 Firefighters battling a blaze in northern Israel today.
Fire and Rescue Services
A combination of dry conditions and high temperatures have seen a series of brushfires erupting throughout Israel over the past day.
Highways have been closed and rail service stopped or delayed in several of the cases. Firefighting planes have been deployed to some incidents to help regain control of the blaze.
A fire advisory banning campfires has been issued for parts of Israel.
Earlier today, a fire closed a section of Route 4 between Atlit and Ofer junctions.
Later, a fire broke out near the Central Israel town of Tel Shahar.
A large fire broke out near an industrial zone in Kiryat Malachi, closing a portion of Route 3 to traffic.
Traffic was rerouted around a piece of Route 446 near the town of Lapid due to a brushfire.
Brushfires broke out near Beit Hanan and Palmachim. In Beit Hanan, the fire is thought to pose a threat to the nearby houses.
Israel Railway closed a route between Lod and Beit Shemesh due to a fire. Train service on that line has since resumed.
A fire broke out near the Samaria town of Tapuach, and was extinguished with the help of Israeli and Palestinian firefighters.
A fire near Shilat junction in central Israel has closed the junction to traffic in all directions.
A fire near Elyakim interchange in the Haifa region is threatening a nearby military installation, with fire crews still unable to gain control of the blaze.