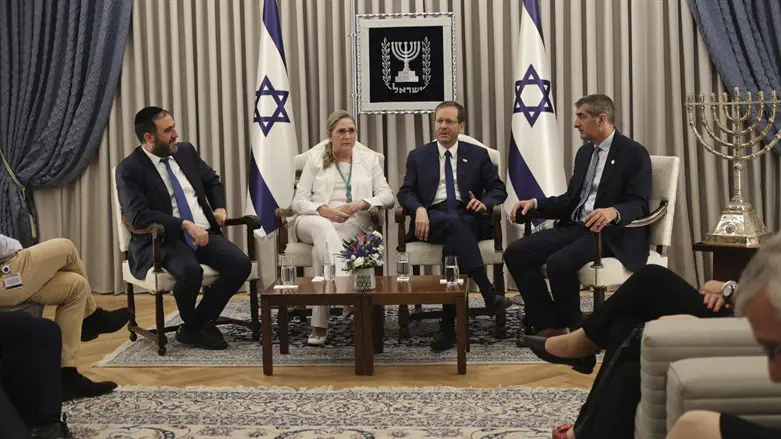 Sheba marks 75th anniversary with President Isaac Herzog
Rotem Appel/Sheba Global
Sheba Medical Center Israel's largest hospital and a Newsweek ranked World's Best Hospital for the past five years, had the distinct honor of being hosted by President Isaac Herzog at his official residence, Beit Hanassi, in celebration of its 75th anniversary.
Over 250 distinguished guests from around the world, as well as senior members of Sheba Medical Center, led by Director General Prof. Yitshak Kreiss, were invited to partake in this momentous occasion. Several guests were also awarded special honorary certificates for their selfless and on-going devotion to supporting Sheba's healthcare agendas.
The encounter exemplified a profound understanding of the vital role that healthcare plays in shaping societies and driving progress.
Sheba Medical Center's delegation presented President Herzog with an overview of the institution's groundbreaking medical breakthroughs, innovative technologies, and pioneering research programs. They highlighted the pivotal role Sheba plays in transforming healthcare practices and its commitment to providing the highest quality patient care.
"We believe with all our hearts that medicine and science transcends borders and politics," said Prof. Kreiss during the ceremony. It is not for nothing that we have chosen the slogan 'Hope Without Boundaries', as the moral and national compass that guide us in all our activities at the Sheba Medical Center in particular and overseas in general. Every day, in the departments throughout the medical center, Jews, Arabs, Druze, Christians, secular, religious, women, men, adults, young people and workers with disabilities work shoulder to shoulder, with one goal - to provide real hope to our patients in Israel and around the world."
Prof. Kreiss also lauded President Herzog and his wife for their support of Sheba's activities and outreach to all sectors of Israeli society. "Thank you Mr. President and thanks to your dear wife, Michal, who is committed with all her heart to helping women, children, and every human being. We know and remember that we have true friends with a common goal to make this a better place to live, now and in the future," Prof. Kreiss added.
"In so many ways, the story of Sheba is the story of the State of Israel. Born during our struggle for independence, Sheba's first patients were wounded soldiers and civilians. As the state grew, so did Sheba. Over the years, it has evolved to meet the dynamic needs of our changing country. And it has been on the frontlines of transforming the State of Israel into a global leader in top-quality medical research, innovative treatment and cutting-edge technology," President Herzog commended. "Today, Sheba's 10,000 diverse employees embody that rare combination of professional excellence, and commitment to compassionate care, that is the hallmark of a world-class hospital, amongst the best in the world."