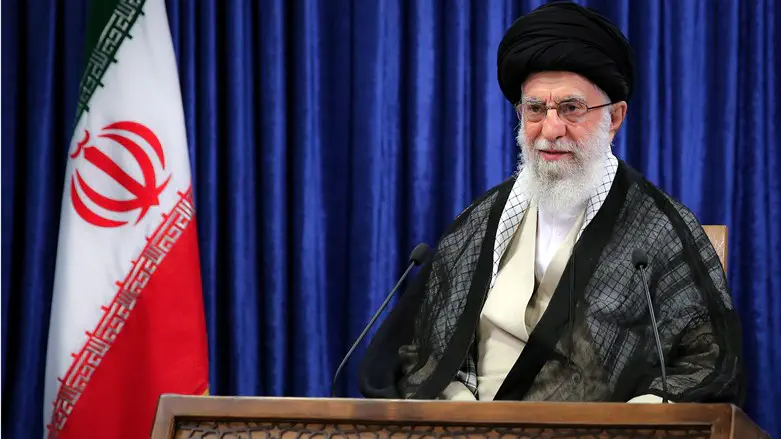 Ayatollah Ali Khamenei
Reuters
Iran's Supreme Leader, Ayatollah Ali Khamenei, on Monday met with Oman's Sultan Haitham bin Tariq Al Said and warned him about the "dangers" of Israel's presence in the region, i24NEWS reported.
Khamenei also told the Omani leader that all countries in the region need to pay attention to this issue and urged him to strengthen the bilateral ties and cooperation between the two countries.
"We believe that the expansion of bilateral relations in all fields is beneficial for both countries," Khamenei was quoted as saying.
Oman's sultan, who arrived in Iran on Sunday for talks on security, trade, and other issues, told Khamenei that Egypt would be willing to resume diplomatic relations with Tehran. Cairo has not yet commented on these statements.
"We welcome the Omani Sultan's statement about Egypt's willingness to resume relations with the Islamic Republic of Iran and we have no problem in this regard," Khamenei said, according to his official website.
Oman has no official relations with Israel, but its Civil Aviation Authority announced earlier this year that its airspace will be open for all flights leaving Israel. Oman thus joined Saudi Arabia, which opened its airspace to flights from Israel this past July.
Though Oman does not officially recognize the State of Israel and has said that it will not normalize ties with the Jewish state until the establishment of a Palestinian state, there have been on-and-off relations between the two nations for years.
In October 2018, Prime Minister Benjamin Netanyahu made a surprise visit to Oman, and it seemed there was a warming of ties between the countries.
Later, Minister Israel Katz also visited Oman, where he presented a plan for the construction of a railway between Israel, Jordan, Saudi Arabia, and the Gulf.
Despite the contacts, Oman's Foreign Minister stated in 2019 that his country will not be the next in line to sign a normalization agreement with Israel