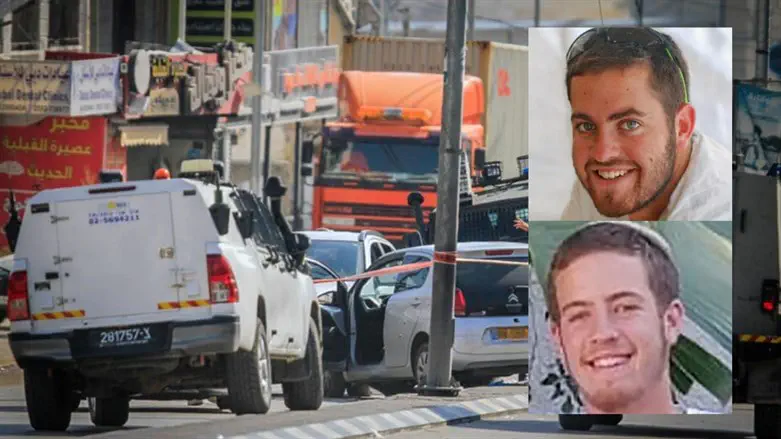 Hallel and Yagel Yaniv and the scene of the attack
Nasser Ishtayeh/Flash 90 and courtesy
The head of the IDF Central Command on Monday signed a demolition order for the home of Abd al-Fattah Hussein Ibrahim Gharusha, the terrorist who carried out the shooting attack in Huwara, in which brothers Hallel and Yagel Yaniv were murdered.
The order was issued after an appeal filed by the terrorist's family was rejected.
The parents of Hallel and Yagel, Esti and Shalom Yaniv, responded to the decision and said, "We thank the security forces for all the hard work in regards to harming the terrorist. The terrorist's family has no place living here; a family that supported their father's act and some of them even took an active part [in the attack] should be deported from the country to other countries."
"We expect to see footage of the significant demolition of their home; a home that educates for terrorism does not deserve to remain standing and deserves to be completely destroyed at least as much as our parents' home in Neve Dekalim (a community in Gush Katif which was evacuated during the Disengagement from Gaza -ed.), where no trace of the home remains," the parents added.
About two weeks ago, IDF soldiers operated in the city of Shechem (Nablus) and mapped the home of Khaled Gharusha, the son of Abd al-Fattah Hussein Ibrahim Gharusha, ahead of its demolition.
Khaled and his brother Mohammed Gharusha, who helped their father plan the shooting attack, have been indicted for intentionally causing death and for possession of weapons. Their arrest has been extended until the completion of legal proceedings against them.
During the mapping operation, suspects hurled rocks and explosive devices, fired explosives, and shot at the soldiers and military vehicles.
The forces responded with riot dispersal methods, as well as with fire, and one hit was identified.
In addition, the military vehicles sustained damage, but none of the forces were injured.