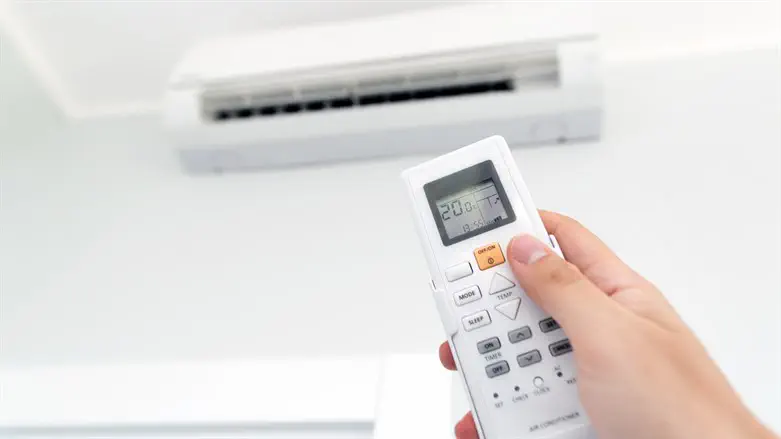 Illustration
ISTOCK
Being able to cool your home is especially useful during the hot summer months. What is the best heating and cooling system for mobile homes to do it? And how to avoid heat stroke? Find out everything you need to know about cooling, ventilation, and air conditioning!
What is the ideal temperature of a mobile house?
The ideal indoor temperature varies from room to room. In general, a temperature of around 19°C is ideal. But depending on the space and your activity, each room has its ideal comfort temperature.
In the bathroom, heat is sought after, and it is preferable to use a minimum temperature of 22°C. In living spaces such as the living room, kitchen, and office, 19°C will be perfect. For the entrance hall, hallway, and toilet, 17°C is enough because you usually don't spend too much time in these places. The ideal temperature of a room is 16 ° C, which may not seem like much, but when you sleep, you are warm under a duvet or sheet, so there is no need to heat up. A room that is too hot even harms the quality of your sleep.
How to avoid heat stroke in summer?
Climate scientists warn of an increase in heat episodes in the future. Keeping the temperature of your home under control will, therefore, also be a challenge in our country. Air conditioning seems the most obvious solution, but not necessarily the best. There are many other options to keep your home fresh.
Opt for suitable sun protection such as screens, shutters, or an awning. Nighttime ventilation can also help. Free cooling (mixing indoor and outdoor air via your ventilation system) is possible when it is 4 degrees warmer indoors than outdoors. And, of course, the smart design of your home is also an important factor in the fight against overheating.
How can we be better equipped to deal with heat waves and floods in the future while living and building more compactly? Several factors are decisive. One of the most important of these is to limit our energy consumption.
How to preserve the freshness of your home?
Want to keep your head and your house cold for the coming months? These possibilities and tips arm you against overheating this summer:
A terrace awning is a sturdy construction that resists day after day, in all weather. With a terrace awning, you are optimally protected against many weather conditions, with multiple options: slatted or folding roof, horizontal and vertical fabric sun protection. All are equivalent to a veranda. This extension, therefore, makes it possible to keep the freshness of your living spaces.
Investing in a sun protection system is also very profitable! Vertical screens protect from the sun and provide a lot of comfort. Not to mention roller shutters and shutters that keep the temperature of your home under control.
Install a pergola yourself
Thanks to a pergola, you spend much more time outdoors in summer and enjoy maximum freshness. This wood-frame construction of posts and crossbars is easily mounted. Discover a practical step-by-step plan for quick assembly!
In a non-insulated house, heat escapes through the roof and walls, among other things. Conversely, it manages to get inside more easily in summer. By insulating your facades and roof, you avoid rapid overheating.
Which systems to choose to cool your home?
If your home is cleverly designed, well insulated, and well heated, air conditioning is not necessary to cool it. Unfortunately, this is not the case for many households. The best heating and cooling system by Alpha Mechanicals is then beneficial to avoid overheating of mobile homes.
Passive cooling
According to experts, it's the best heating and cooling system for mobile homes in 2023. An example of active cooling: an air conditioner that blows fresh air into your home. Passive cooling is less intense, such as a reversible heat pump or an underground water heat pump.
Heat pump
With a reversible heat pump, you can – in addition to heating – also cool your home. The heat inside is extracted from the air and rejected by the outside. With an underground heat pump, you can passively cool in a very energy-efficient way in summer: the coolness of the soil is released via the heat pump into the water of the central heating ducts. You also store heat in the ground that you can use again during the winter months. With an air-to-water heat pump, you can only cool actively. This type of pump extracts heat via underfloor heating or fan coils.
Underfloor heating
Cooling with underfloor heating works on the same principle as underfloor heating. The tubes are simply filled with cold water instead of hot water.
Fixed air conditioning
An air conditioner is the most well-known system for cooling your home, also supplied by Alpha Mechanical. This type of system usually consists of an indoor and outdoor unit and is also called an air-to-air heat pump. The indoor unit extracts hot air from the room and rejects it to the outdoor unit. A coolant compressor cools this hot air and then returns it to the room using the indoor unit. In addition to cooling, you can also dehumidify and purify your air with a stationary air conditioner.
Mobile air conditioning
A mobile air conditioner can be moved from one room to another. In general, these cooling systems are relatively noisy and energy intensive. The hot air is also evacuated through a pipe through the window, and therefore, a little heat always enters inside, which is not optimal.
Cooling network
You may have known about the heating network for some time, but in recent years the cooling network has also appeared. Groundwater cooling is the new eco-friendly way to cool your home. The network cools your home with ice water that is pumped from the ground. The groundwater consumed is pumped into the ground so that it can be recovered.
Ventilation
Ventilation not only ensures healthy indoor air, but you can also heat or cool your home through your ventilation system. With a C ventilation system, you can combine window grilles with night cooling grilles that focus more on cooling than ventilation. If you have a D equilibrium ventilation system that combines heat recovery with a boiler for domestic water, you can cool the air that enters through the lower heat exchanger.