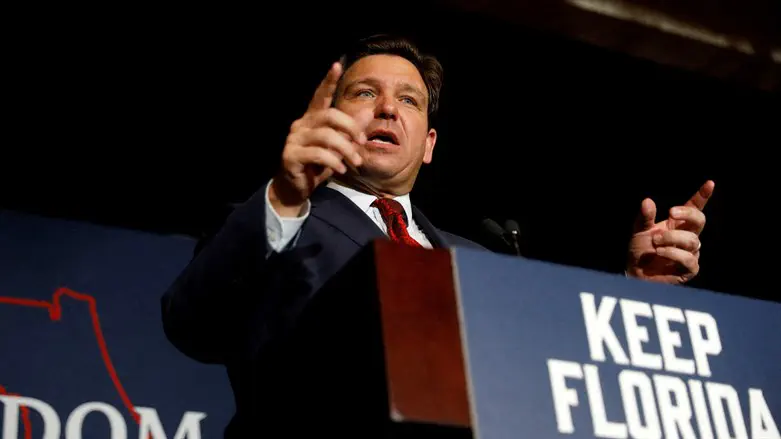 Ron DeSantis
REUTERS
Florida Governor Ron DeSantis on Wednesday night attempted to officially announce his presidential campaign in a Twitter Spaces conversation with the social media network's owner, Elon Musk, but the announcement was derailed by massive technical glitches on Twitter.
The conversation was scheduled to start at 6:00 p.m. EDT, but crashes, feedback glitches and audio failures caused it to start around 25 minutes later.
Musk and investor David Sacks started a new Twitter Spaces webcast after the original one failed. However, that one suffered from technical issues as well, including in the middle of DeSantis' remarks.
Finally, DeSantis was eventually able to speak without interruption, and he then read remarks which echoed some of what he said in a pre-recorded video his campaign had released shortly beforehand.
The technical glitches were enough for rivals on both sides to troll DeSantis.
US President Joe Biden's official Twitter account used the opportunity to ask for contributions to his reelection campaign.
"This link works," Biden tweeted, with a URL linking to his donation page.
Rep. Alexandria Ocasio-Cortez, a member of the so-called Squad, also mocked DeSantis, responding to entrepreneur David Sacks' claim that the initial audience for DeSantis' Twitter chat broke the internet.
"We had more people join when I played Among Us," Ocasio-Cortez wrote on Twitter, referring to the name of a video game.
Former US President Donald Trump, who is one of DeSantis' top challengers for the Republican presidential nomination, also took aim at the Florida Governor.
"Wow! The DeSanctus TWITTER launch is a DISASTER! His whole campaign will be a disaster. WATCH," Trump wrote on his Truth Social platform.
Also taking a swipe at DeSantis was Fox News, which wrote on its website on Wednesday evening: "Amateur hour. Much hyped Ron DeSantis presidential announcement a disaster on Twitter."
The network's homepage also featured a bright red crawl graphic that ran across the bottom of its website with the words "PROGRAMMING NOTE: Want to actually see and hear Ron DeSantis? Tune into Fox News at 8 p.m."
A DeSantis campaign official, meanwhile, put a positive spin on the glitches and told NBC News, "Governor DeSantis broke the internet — that should tell you everything you need to know about the strength of his candidacy….!"