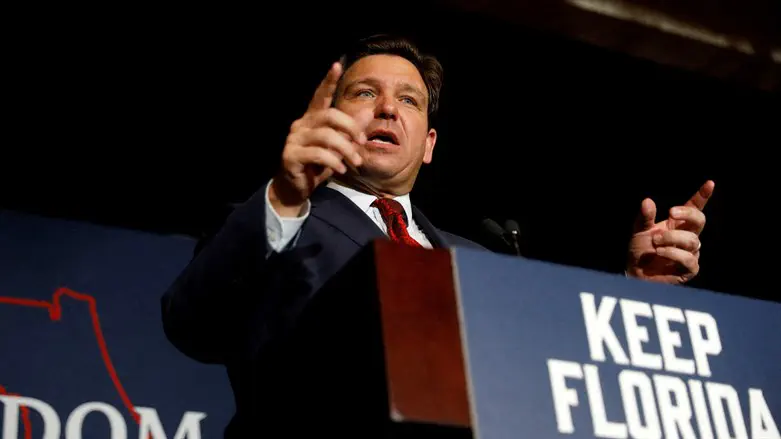 Ron DeSantis
REUTERS
Former President Donald Trump went on the attack against Florida Governor Ron DeSantis on Wednesday, using his social media platform Truth Social to slam DeSantis as "disloyal" as he prepared to launch his presidential bid.
In multiple posts, Trump attacked Desantis's character and integrity, contrasting that with his own record as president. He also insisted that DeSantis, Trump's likely main primary rival, will not be able to secure the GOP presidential nomination for 2024.
"Look, Ron DeSanctimonious came to me asking for help. He was losing badly, by 31 points, to popular Agriculture Commissioner Adam Putnam," Trump posted, recalling DeSantis's first run for Florida governor in 2018.
"He was getting ready to drop out of the race — Ran a terrible campaign! Ron told me he had one last chance, my Support & Endorsement, which Putnam, and everyone else, wanted also. I gave it to Ron, and the race was over. In one day, he went from losing badly, to winning by a lot. With 3 LARGE TRUMP RALLIES, he WON THE GENERAL ELECTION in an upset. DISLOYAL!!!"
Trump used Truth Social to slam DeSantis's chance in the 2024 presidential election if he secured the GOP nomination.
"Ron DeSanctus can't win the General Election (or get the Nomination) because he VOTED TO OBLITERATE SOCIAL SECURITY, EVEN WANTING TO RAISE THE MINIMUM AGE TO 70 (or more!), VOTED TO BADLY WOUND MEDICARE, AND FOUGHT HARD AND VOTED FOR A 23% 'TAX ON EVERYTHING' SALES TAX," Trump wrote in all caps.
Trump also went personal, attacking DeSantis's character, and charging that the Florida governor needs a not yet medically possible "personality transplant."
"He was, and is, a disciple of horrible RINO Paul Ryan, and others too many to mention. Also, he desperately needs a personality transplant and, to the best of my knowledge, they are not medically available yet. A disloyal person!" Trump said.
Trump then went after allies of DeSantis, including former Virginia Attorney General Ken Cuccinelli, who founded pro-DeSantis super PAC Never Back Down.
"A man named Ken Cuccinelli, who failed miserably in his run for Governor of Virginia and then in his running the Ted Cruz campaign against me, worked for the Trump Administration on the Border, but just was not as good as some of the other people I had working on Border Security — 'THE BEST IN HISTORY,'" Trump posted. "He was going nowhere with us, so now he works for DeSanctimonious, at supposedly a big Globalist like salary, and rips 'TRUMP' on Globalist FoxNews. Oh well, another one bites the dust!"
DeSantis is launching his presidential campaign on Wednesday evening on Twitter Spaces, hosted by Elon Musk and moderator David Sacks.