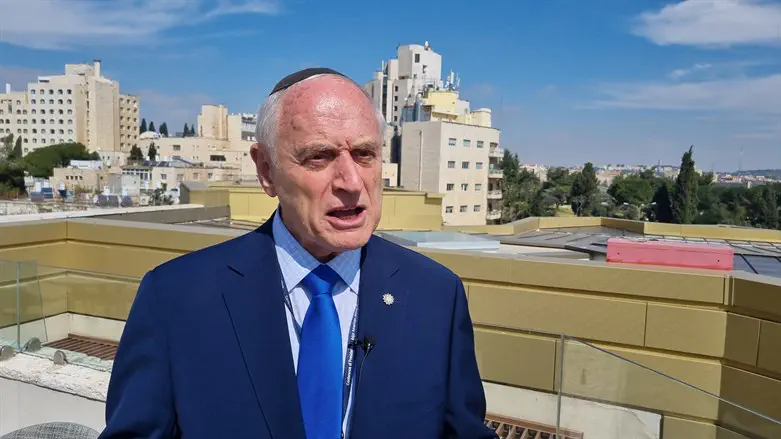 Malcolm Hoenlein, Vice Chairman of the Conference of Presidents
Israel National News
Malcolm Hoenlein, Executive Vice Chairman of the Conference of Presidents of the Major Jewish Organizations in the United States, commented on the upcoming Israel National News Jerusalem Conference in Manhattan: "This conference is very important. There is a lot of confusion about what is happening in Israel, because there is a lot of wrong and biased information in the media. Here, on this stage, we have the opportunity to present the the facts, balance the distortions and show a wider picture."
Click here for more information and registration
The Jerusalem Conference that will be held in New York on June 4 will include the participation of members of the Israeli government and the national institutions such as the Jewish Agency, as well as the heads of Jewish organizations in the United States.
Malcolm Hoenlein believes that people in the United States do not have correct information about what is happening in Israel. "I definitely believe - certainly in non-Jewish communities, but also in a large part of the Jewish communities - that the facts are not sufficiently known to them. There is a lot of confusion here even regarding the issues of the judicial reform and other urgent issues. No one presents Israel's position in an orderly and clear manner. Some even present Israel as violent, instead of as a country that protects its citizens against terrorism and terrorist attacks. For example, regarding the operation in Gaza this month, it should be very clear that Israel reacted in the most cautious way possible. Still, things are not exactly presented that way in the world. The opportunity of the Jerusalem Conference should be taken advantage of to hear directly from sources in Israel who can present the facts, in the hope of presenting the truth as it is," he summarizes.
According to Hoenlein, the most important challenge facing our people in Israel and in the Diaspora is the unity of the Jewish people, and this will be reflected in the conference: "There is an opportunity here to make people understand what motivates each of the parties and what are the needs they are trying to address. Every possible step should be taken to gather Jews together and to win the support of American Jewry on the critical issues of Israel's security, anti-Semitism and other issues on which they have a direct say."