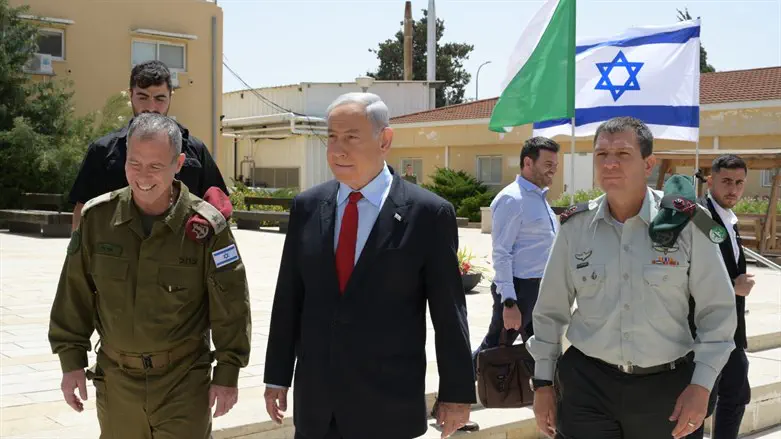 Netanyahu at intelligence base
Amos Ben Gershom/GPO
Prime Minister Benjamin Netanyahu visited an IDF intelligence base near Jerusalem this afternoon (Tuesday), together with IDF Military Intelligence Directorate commander Major General Aharon Haliva, National Security Advisor Tzachi Hanegbi, Cabinet Secretary Tzachi Braverman, and Military Secretary Avi Gil.
Prime Minister Netanyahu received an in-depth review of the efforts being made in the various arenas in the face of the threats posed by Iran. He was also presented with the efforts that are being made on a daily basis to thwart terrorism in Judea and Samaria.
As part of the visit, Prime Minister Netanyahu heard about the intelligence that was gathered and enabled the assassination of several senior Islamic Jihad leaders during Operation Shield and Arrow.
Following his visit, Netanyahu said: "I have just completed a visit to one of our intelligence bases and I left very encouraged. Israel is opening a gap over its enemies and is doing so through a combination of human intelligence and artificial intelligence. What I saw is that the future is already here. All our enemies should know, we are way ahead of you."
At the end of the visit, the Prime Minister was presented with an overview of the "Gesher" (bridge) project, which aims to impart technological knowledge to students from the periphery.