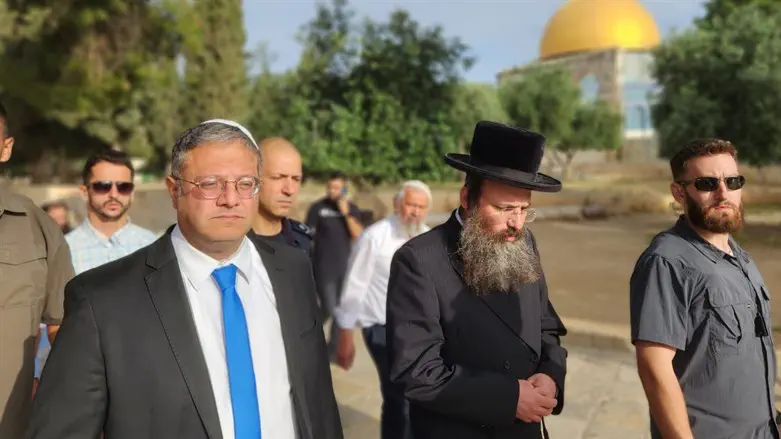 Ben Gvir visits Temple Mount
Spokesperson
Iran on Monday weighed in on National Security Minister Itamar Ben Gvir's visit to the Temple Mount, the Xinhua news agency reported.
Iranian Foreign Ministry spokesman Nasser Kanaani condemned the visit and called on the Muslim world and international community to take "effective, immediate and deterrent" action in response to Israel's "presumptuous and provocative" activities.
The statement came after Ben Gvir visited the Temple Mount on Sunday morning under heavy police security, in honor of the beginning of the Jewish month of Sivan.
During the visit, Ben Gvir stated, "I am happy to visit the Temple Mount, the most important place to the people of Israel. I must say that the police are doing an amazing job and, again, prove who the boss is in Jerusalem. All of Hamas' threats won't help, we are in charge of Jerusalem and of all of the land of Israel."
The visit was condemned by the United States, where State Department spokesperson said Washington is concerned Ben Gvir's "provocative visit to the Temple Mount/Haram al Sharif in Jerusalem and the accompanying inflammatory rhetoric. This holy space should not be used for political purposes, and we call on all parties to respect its sanctity."
Jordan's Foreign Ministry condemned what it described as Ben Gvir's "incursion" into the compound, calling it "a provocative step and a grave violation that leads to escalation."
"The visit breaches international law and the historical and legal status quo of Jerusalem and its holy sites," he added, demanding Israel "immediately cease all violations against the Al-Aqsa Mosque and respect its sanctity."