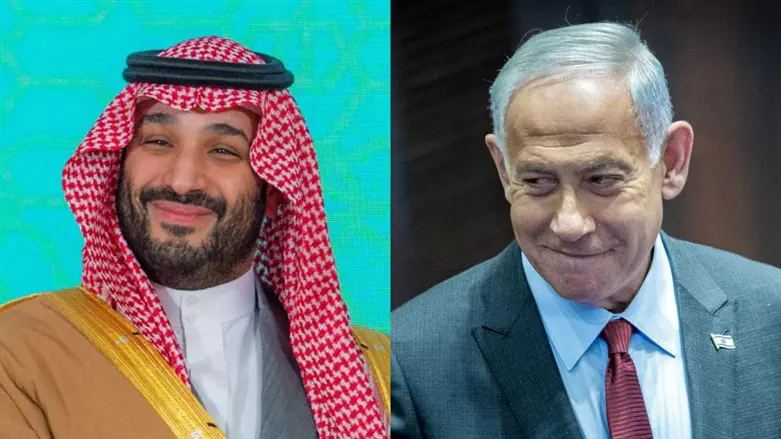 Benjamin Netanyahu and Mohammed bin Salman
Reuters/Yonatan Sindel/Flash 90
Israel and Saudi Arabia have been engaged in negotiations for a potential normalization agreement under Bahraini mediation for the last day, Channel 12 News correspondent Sapir Lipkin reported.
Prime Minister Benjamin Netanyahu and Foreign Minister Eli Cohen are involved in the telephone negotiations. Saudi Crown Prince Mohammed bin Salman arrived in Manama in Bahrain and is holding the talks from there, mediated by the Bahraini Foreign Minister Abdullatif bin Rashid Al Zayani.
Bahrain was chosen as a mediator for the negotiations at the request of the Saudis. A source involved in the talks told Channel 12 News that "the negotiations are very complex" and are being conducted under pressure exerted by the Biden Administration.
According to sources in Saudi Arabia, among the main demands of the Saudi palace that came up in the negotiations are the granting of concessions to the Palestinian Authority in Judea and Samaria, including the relinquishment of the IDF's Authority in favor of strengthening the PA security forces. The Saudis also demand that Mahmoud Abbas and the members of the Palestinian Authority be given security powers in the Church of the Holy Sepulcher and the Al-Aqsa Mosque, not including the Western Wall, which will remain under Israel's authority, and more.
US National Security Advisor Jake Sullivan said two weeks ago that the United States is "working to achieve a normalization agreement between Israel and Saudi Arabia."
Saudi Arabia has also reportedly issued a list of demands that the US must fulfill if the kingdom agrees to normalize its relations with Israel, including the right to a civilian nuclear program in light of Iran's nuclear program, the expansion of defensive ties with the US, the expansion of trade with the US, and an end to US criticism of Saudi Arabia over the 2018 murder of journalist Jamal Khashoggi.