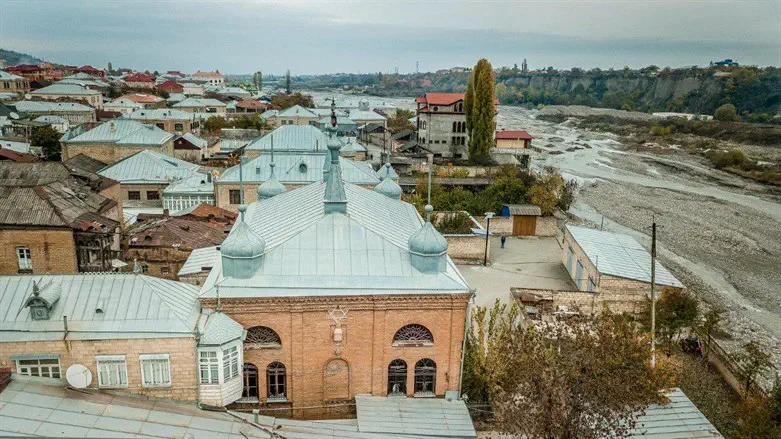 Synagogue in Azerbaijan
courtesy
Throughout much of the Islamic world, human rights are systematically violated. It was recently reported that in the Islamic Republic of Iran, the Iranian regime shut down a café for a couple of days for the crime of serving women who refused to don a hijab. This comes after the Iranian regime poisoned hundreds of schoolgirls and violently suppressed protests, which were launched following the Morality Police violently slaughtering Mahsa Amini, a young Kurdish girl.
Prominent Middle East scholar Dr. Mordechai Kedar emphasizes," There is a correlation between radical Islam and human rights abuses." Former Israel Consul General to Istanbul Eli Shaked concurred, adding, "Unfortunately, you will not find a single Arab country that is democratic and maintains human rights. Women's equality is equally lacking."
"Take a look at Lebanon, which was ruled by the Christians for so many years" he added. "The Christians were the strongest part of the community. Nowadays, it is Hezbollah, which is actually leading Lebanon and it is chaotic. Radical Islamism is the main cause for Lebanon's disaster. When the Christians were the strongest part of the society, Beirut was the Paris of the Middle East. The country was very successful economically, politically and socially. Now, Lebanon is facing a disaster."
Additionally, anti-Semitic prejudice is common throughout the Islamic world. Take Indonesia as an example. Indonesian activist Aryo Brahmantyo, speaking on a webinar on "the Holocaust and anti-Semitism today" that was organized for the Irwin Cotler Fellowship Program, stated that Holocaust education is very difficult in most parts of the Muslim world including in his country: "In 2022, a Holocaust Museum was opened in Indonesia. It was the first Holocaust museum in the country. However, the museum would become a source of controversy in Indonesian society."
"Judaism is not an officially recognized religion in Indonesia," he added. "This reality adversely affects Holocaust education in Indonesia, especially when accompanied by the lack of interfaith dialogue and suspicions and prejudices against the Jews. The people are often misled by material distributed by anti-Semitic people."
The plight of Holocaust education in Iran and Lebanon is even worse, and this affects how these societies relate to not only Jewish people, but also other minority groups as well. In fact, the plight of Baha'is in Iran is even worse than the plight of Jews in the Islamic Republic, as their very right to exist is against the law while Jews are granted rights as third class citizens.
However, not every country in the Islamic world is like Lebanon, Iran, or Indonesia. Contrary to the myths, there are some enlightened Muslim countries and such countries can serve as role models for what other Muslim countries can inspire to become. For example, Azerbaijan is a country that every Muslim country should aspire to be like. Rabbi Zamir Isayev stated in an interview that Azerbaijan is one of the few countries in the world where there is zero anti-Semitism. In many places in Azerbaijan, the synagogues are left unlocked at night, for there is no need to lock them, as there is no danger that someone will steal from the synagogue, let alone commit anti-Semitic vandalism or graffiti on the holy site.
Azerbaijan's Ambassador to Israel Mukhtar Mammadov recounted a story of a Muslim man who was seeking medical treatment for his wife in a hospital in Guba near a synagogue: "He was looking for a mosque to pray for the plight of his wife, but could only find a synagogue. So, the local Jewish community invited him inside and he proudly prayed for the fate of his wife inside the synagogue." He asked, "In what other country do Muslims go to synagogues to pray? But in Azerbaijan, this is considered normal," as the national government has a multiculturalism policy, where every faith receives equal funding, equal recognition and equal appreciation. In fact, in Azerbaijan, it is common to celebrate Easter, Passover and Novruz in unison, with each faith greeting each other on their holiday.
Rafael Nabizade, an Azerbaijani activist, stated that he had the privilege to hear the testimony of Holocaust survivor Lev Schwartz at Ada University in Azerbaijan: "He is originally from Ukraine but lives today in Baku. He told us the story of his community of 3,000 Jews, which was completely destroyed by the Nazis. His family faced the horror of the Holocaust, but miraculously escaped from death. I have to mention that 300,000 Azerbaijanis out of 600,000 died on the battlefield during World War II and did not return home. Azerbaijan was one of the few countries where the Jewish people found shelter. Most of the Eastern European Jews stayed in Azerbaijan." Thus, Azerbaijan is a haven for Jews seeking a tolerant anti-Semitic free atmosphere, in a world dominated by hatred and bigotry.
As for women's rights, Azerbaijan was among the first countries in the Muslim East to grant women the right to vote. Women were granted the right to vote in 1918 in Azerbaijan, a good two years before the United States. Azerbaijan's Vice President Mehriban Aliyeva is presently a woman, who also serves as the country's First Lady. In fact, Azerbaijan's President Ilham Aliyev is one of the few rulers in the world who respects his wife so much that he decided to make her Vice President. Compare this to the wife of Iran's President Jamileh Alamolhoda, who is covered in black from head to toe with a chador and does not hold any official position.
Azerbaijan should serve as role model for the entire Islamic world. It is already a beacon of light in a region with much darkness..
Rachel Avraham is the CEO of the Dona Gracia Center for Diplomacy and an Israel-based journalist. She is the author of "Women and Jihad: Debating Palestinian Female Suicide Bombings in the American, Israeli and Arab Media."