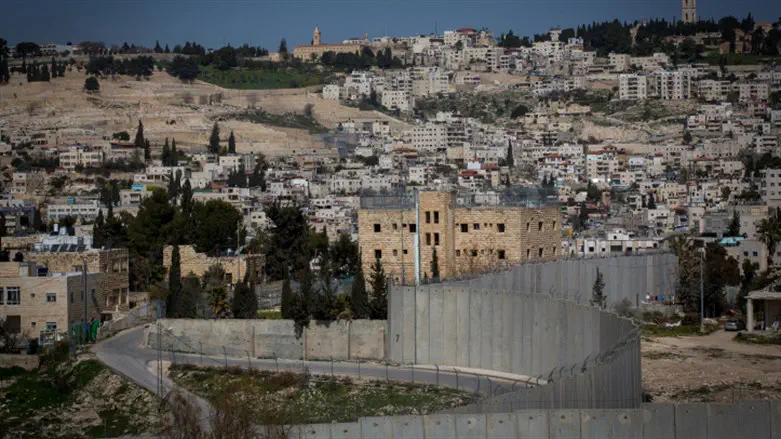 Abu Dis
Miriam Alster/FLASH90
The city of Jerusalem's planning committee has given preliminary approval for the construction of a new Jewish neighborhood inside of an Arab enclave that straddles the border between the capital and Judea and Samaria.
The town of Abu Dis, located on the eastern edge of Jerusalem, spans both sides of the line demarcating the municipal boundaries of the capital, with most of the town's land located in Area B, under Palestinian Authority civil administration and Israeli military control.
According to a report by Zman Yisrael, last week, a new Jewish neighborhood received preliminary approval from Jerusalem's planning committee.
The project, dubbed Kidmat Tzion, would include 400 new housing units built near the security barrier which divides Abu Dis.
There is currently a small Jewish presence in Abu Dis, with roughly a dozen families living in two small apartment buildings purchased by Ateret Cohanim with the support of the late American Jewish philanthropist Irving Moskowitz.
Originally drafted in the 1990s, a scaled-down version of the plan – including just 225 homes – received initial backing from city officials in 2000.
The plan was brought back in 2012, with the number of homes raised to 300, though, the project was later shelved.
Abu Dis has long been considered as a possible location for the capital of a future Palestinian state – both by senior Palestinian Authority officials and Israeli leaders pushing for a two-state solution – leading to the flurry in the 1990s of construction in Abu Dis aimed at laying the groundwork for statehood, including a parliamentary building.
In its briefing appended to the Kidmat Tzion plans submitted to the planning committee, Ateret Cohanim cited "Palestinian ambitions" in Abu Dis to highlight the importance of the new project.
"Palestinian institutions in Abu Dis were built with the vision of turning the town into the capital city of Palestine and building a corridor and passage to the center of Jerusalem, and thus promoting the takeover of the entire city."
"The significance of establishing and developing the neighborhood is to create a shield for Jerusalem against Palestinian ambitions. The neighborhood will disturb the contiguity [of the area] and protect us from dividing the city."