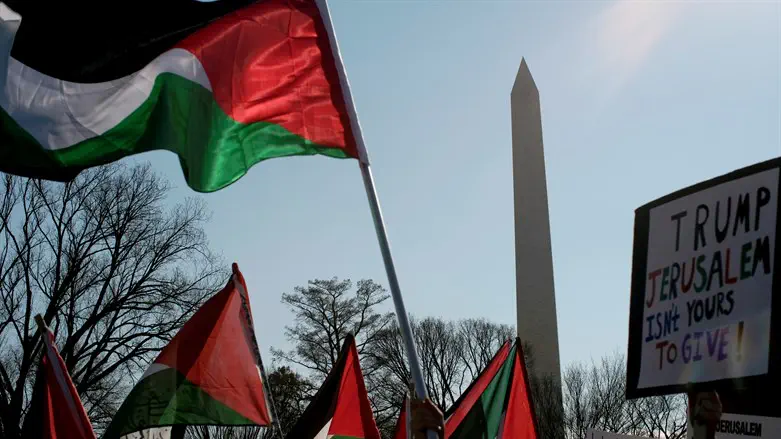 Anti-Israel protest in Washington (archive image)
REUTERS
American comedian Amer Zahr's upcoming Canadian performances in Montreal, Toronto and London, Ontario were denounced by B'nai Brith Canada, who decided the comedian for glorifying terrorist Leila Khaled and praising terrorist groups Hezbollah and Hamas.
"B'nai Brith Canada was appalled to learn of Amer Zahr's history of publicly engaging in antisemitic rhetoric and support for terrorists," B'naith Brith said.
The advocacy organization expressed its concerns regarding Zahr's performance in London at the London Public Library's (LPL) Wolf Performance Hall (WPH) to the LPL, a taxpayer funded venue, urging the library to reconsider its decision to host Zahr.
"It is essential that publicly funded venues in Canada should be vetting individuals, particularly visitors to this country, prior to hosting their events employing Canada's antiracism and hate strategy, which utilizes the International Holocaust Remembrance Alliance's definition of antisemitism," B'nai Brith said.
In a 2017 video posted to Facebook, Zahr, an American, stated that he supports those who stand against the "Israeli occupation", specifically naming Hamas and Hezbollah, both of which are designated terrorist groups in Canada.
Zahr has repeatedly posted praise of Leila Khaled on social media, referring to her as his "valentine". Khaled, as a member of the Popular Front for the Liberation of Palestine (PFLP), a designated terror group, participated in the hijacking of TWA Flight 840 in 1969 and El Al Flight 219 in 1970. Khaled has advocated in favor of using children in terrorist activities and stated that she would have no problem with her own children participating in such.
In his 2017 Facebook video, Zahr denied the historical Jewish connection to Jerusalem. He went on to label the Zionist movement "white supremacist" and has tweeted that Israel is based on "Jewish supremacy."
B'nai Brith noted that these are common contemporary antisemitic themes.
"Perhaps most disturbing were Zahr's instructions to his fellow anti-Israel activists, urging them to stop condemning antisemitism," B'nai Brith said. "This inexcusably irresponsible message was posted as an unprecedented wave of antisemitism and violence against Jews was being documented in Canada and across the world."
"We are calling on the City of London to cancel the event," they added. "There is a need for all governments in Canada, including the City of London's administration, to utilize the International Holocaust Remembrance Alliance (IHRA) definition of antisemitism, which has already been adopted by both the federal and Ontario government, and to employ the IHRA when vetting those who may be granted access to public space."
B'nai Brith Canada CEO Michael Mostyn called on the city to block Zahr from performing in a publicly-funded space.
"The City of London must do the right thing and refuse to give this radical American access to its municipal space," Mostyn said. "All levels of government in Canada need to do a better job of preventing those with a history of propagating hate from accessing public resources."
(Israel National News' North American desk is keeping you updated until the start of Shabbat in New York. The time posted automatically on all Israel National News articles, however, is Israeli time.)