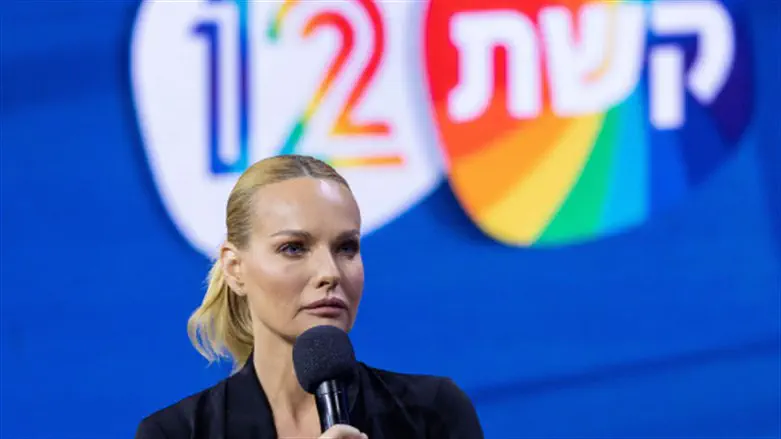 Galit Gutman
Flash 90
Galit Gutman, a host on the Keshet network, called haredim 'bloodsuckers who milk Israeli society' earlier today.
The remark drew rapid and widespread condemnation, with Prime Minister Netanyahu stating: "I condemn Galit Gutman's ugly and inciting statement against the haredi public in Israel, which is reminiscent of slanderous statements directed against our people in the past. There is no place for that - all Israel are brothers!"
Finance Minister Bezalel Smotrich commented "It may be a small handful and full of hate, but the support this receives in the general media and from the leaders of the opposition makes the incitement against the haredi public, which has been breaking records in recent days, dangerous and one that cannot be kept silent about. We want to say to our haredi brothers - we love you, we support you, and we will not give you up to anyone. We are brothers."
Minister of National Security Itamar Ben-Gvir commented "Our haredi brothers are 'bloodsuckers'? Have we gone mad? Galit Gutman is inciting anti-Semitism that has been used all these years to murder and persecute Jews. Shame!".
Housing Minister Yitzchak Goldknopf commented "If the sickening statement made by a live news anchor on a central channel is passed over in silence by the channel's management, it shows that the blood of my haredi brothers is allowed to be spilled. I ask all members of the Knesset and the government to condemn these things. We protest and condemn the despicable incitement."
Communication Minister Shlomo Karhi commented "In the darkness of the Middle Ages, when anti-Semitic wrongdoers hurled such statements at the Jews, we said: This is how it is - Esau hates Jacob. But here in Israel? By a Jew? Out loud? I don't know who this woman is, but her statements are pseudo-anti-Semitic, shameful and unworthy of a media platform. If they have a pinch of journalistic ethics, Channel 12 is expected to suspend her immediately."
UTJ MK Yitzchak Pindrus commented "Even in Labor in the UK they removed a member of parliament who c'. They also understand that Goebbels' jargon is always inappropriate to use and in any case I will not come to Channel 12's studios until this abominable incitement is dealt with."
Otzma Yehudit MK Yitzchak Kroizer filed a formal complaint with the Broadcasting Authority, saying "Freedom of expression is not the freedom of incitement, Galit Gutman's statement is a blanket, racist and arrogant statement that should not have been said at all."
Gutman was summoned to an urgent disciplinary meeting, and has apologized for her statements.