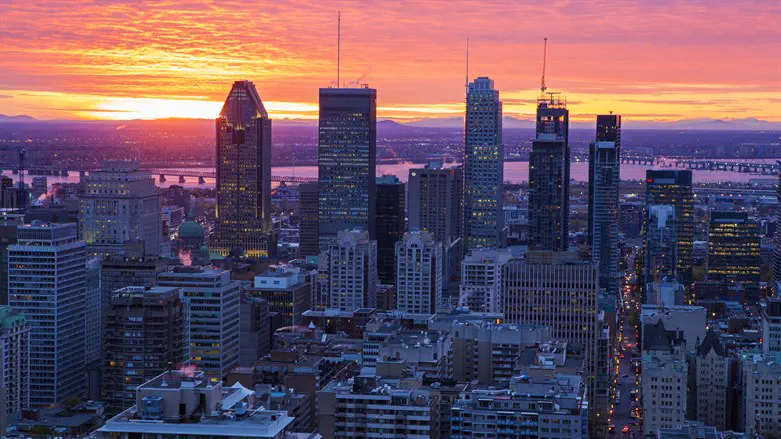 Montreal
צילום: איסטוק
One of Canada's leading Jewish advocacy organization slammed a light sentence given to a Montreal youth who tore down and burned Israeli flags in front of a Jewish school on April 26.
The 16-year-old was arrested by the Montreal police hate crimes unit in late April after being filmed burning Israeli flags in front of the Jewish elementary school that were set up on Israel's 75th birthday.
The boy faced multiple charges including theft, arson and mischief, according to the Montreal Gazette.
But the teen agreed to a plea deal and received a sentence of one-year probation with conditions that protect the Jewish school and Jewish community.
The Centre for Israel and Jewish Affairs (CIJA) described the sentence as concerning for the Jewish community as it did not sufficiently address the "hateful motivation behind his actions nor the magnitude of the incident's impact on the community."
"The youth's video documenting the theft and burning of the Israeli flags while Montrealers celebrated Israel's 75th anniversary (Yom Ha'Atzmaut) was perceived by many as an attempt to intimidate the Jewish community," CIJA said in a statement.
They noted that the incident led to Federation CJA's Community Security Network (CSN) and local law enforcement increasing security at Jewish institutions across Montreal in the following days.
"Today's sentencing underscores why we have requested that specially trained prosecutors, equipped with thorough guidelines, be assigned to handle hate crime cases. Ripping down the Israeli flag from a place where children gather and subsequently burning it sends an unmistakably threatening message to Montreal's Jewish community," CIJA Quebec Vice President Eta Yudin said.
"When anti-Zionism is used as a guise to target and intimidate Jews in Canada, that is antisemitism. A connection to Israel is an integral part of Canadian Jewish identity and those who import the Israeli-Palestinian conflict, using it to single out and attack Canadian Jews, are engaging in antisemitism. The judicial system must recognize this nuance."
Yudin added that "while we appreciate the sentence's conditions protecting the Jewish community, the one-year probation does little to deter others from committing hateful acts and nothing to educate the individual about the harm of his actions."
"The circumstances of this crime, including where it took place, warranted a judicial response that made clear the scope and impact of the incident," she said. "We will continue to work with government partners to ensure guidelines are established for hate crimes that reflect the severity of the damage they do to those they impact."
Federation CJA CEO Yair Szlak also criticized the sentence.
"Today's sentence should have sent a loud and clear message that acts of antisemitism are motivated by hate and the courts will respond accordingly," he said. "Targeting of local Jewish institutions by those pushing an anti-Israel agenda is not acceptable. Schools are meant to be safe places for our children to learn and should never be used to showcase hate or to import a foreign conflict.