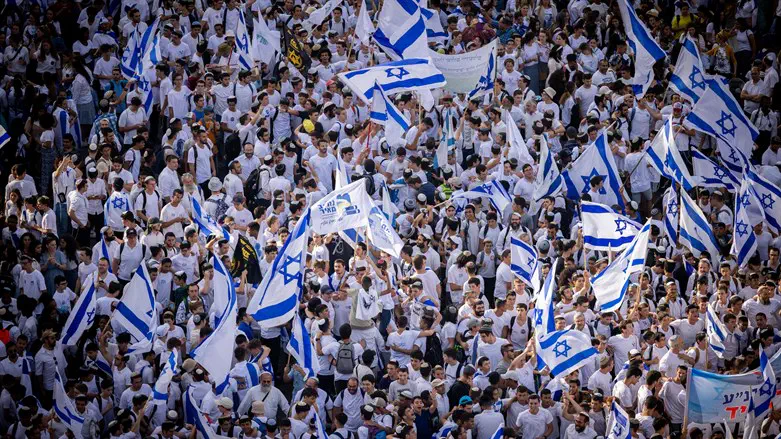 Jerusalem Day Flag March
Yonatan Sindel/Flash 90
56 years since the reunification of the capital: Jerusalem Day celebrations will take place today (Thursday) in the capital under heavy security of approximately 3,200 police officers, Border Police personnel, volunteers, and special forces spread out across the city.
The day's climax will take place in the afternoon when tens of thousands from across the country will march with Israeli flags from the center of the new city, through the gates of the old city, to the Western Wall.
The police made clear that "the Flag March will march along the route that has been used for many years, from central Jerusalem, through the old city gates, to the Western Wall. As in past years, additional Jerusalem Day events, ceremonies, and marches will take place in the city as well."
Police Commissioner Kobi Shabtai added: "Thousands of police and Border Police officers will be spread out for public security and safety in Jerusalem on the city's holiday. Just as we prepared for the month of Ramadan for the Muslims and the Holy Fire ceremony for the Christians, we are preparing for the public who will take part in Jerusalem Day."
Police Jerusalem District Chief, Deputy Commissioner Doron Turjiman, stated: "Jerusalem Day is the holiday of the city of Jerusalem, and we will work to keep it that way, to secure and protect all those who will participate in the various events, while ensuring security, order, and law and minimizing harm to everyone's daily routine as best as possible. We worked the same during Ramadan, Easter, and Passover, and that's what we'll do during Jerusalem Day."
At the Western Wall, a prayer and thanksgiving gathering will be held at 7:00 PM on Thursday following the Flag March to celebrate 56 years of a united Jerusalem.
In addition, throughout the day, beginning at 11:00 AM, a special broadcast for elementary school students will be held and will include an online competition with tens of thousands of students, a virtual tour of the Western Wall Tunnels, and videos and content for children about Jerusalem and the Western Wall.
Tomorrow morning (Friday) at 7:30, a special morning service will be held at the Western Wall.
The police warned that in recent days false publications and incitement regarding Jerusalem Day and the Flag March have been making their rounds on the internet.
The police say that the entry of visitors to the Temple Mount will take place as usual, along with the Muslim prayers, which will also carry on as usual.