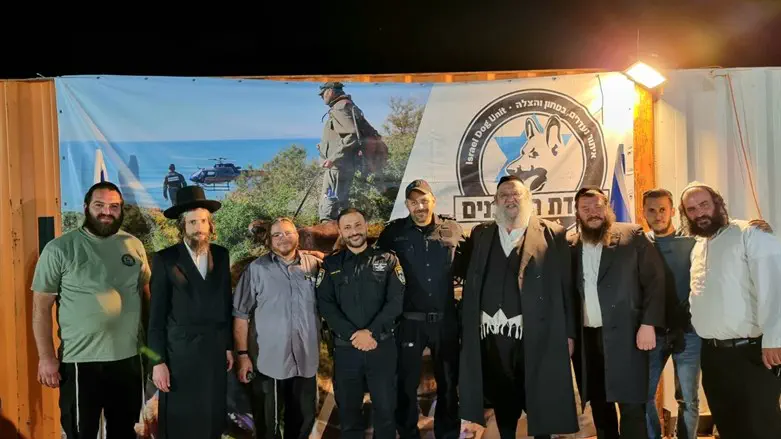 Israel Dog Unit appreciation event
Israel Dog Unit Public Relations
An appreciation event was held last night (Tuesday), at the Israel Dog Unit's Galilee station, in cooperation with the Am Yisrael Chai Foundation and the families of people who have gone missing in the region and have not yet been found.
The Israel Dog Unit (IDU) is a nonprofit specializing in locating missing persons that has been leading search efforts in several unsolved disappearances. Representatives from all other emergency response organizations operating in the region were invited to attend.
Among those in attendance were IDU volunteers, Shmuel Sackett, chairman of the Am Yisrael Chai Foundation, representatives of the families of the missing, the command staff from the Tzfat station of the Israel Police, the Regional Council Chief of Staff from Marom HaGalil, representatives from the Nature and Parks Authority, and Col. (res.) Dr. Ephraim Lior, an expert in disaster response.
IDU director Yekutiel Ben-Ya'akov commented: "This is a very important meeting, with the goal of supporting the parents, children, and siblings of the missing, and for them to get to know the IDU, Israel Police, Nature and Parks Authority, and other forces that continue the search."
"It is equally important to support the IDU volunteers who spend days and nights searching for missing persons in general, and in particular searching for the missing persons of the 'Meron Triangle'. It is important that the volunteers see the families in person and understand that the only thing that prevents the families of the missing from losing hope is the knowledge that the IDU will continue to accompany them, and will continue to search until we find out what happened to their loved ones. Until then, the wound remains open."
"The time has come for the ministers in charge of the field to recognize the IDU, and give us the tools to save more lives in Israel. The missing are not third-class citizens. 4,000 missing persons are reported every year. Dozens of missing persons are added every year to the list of those who have not yet been located. It is as if the earth swallowed them up. I say to the government of Israel, wake up, people are disappearing under your nose. The issue of the missing is falling by the wayside and needs to be corrected!"