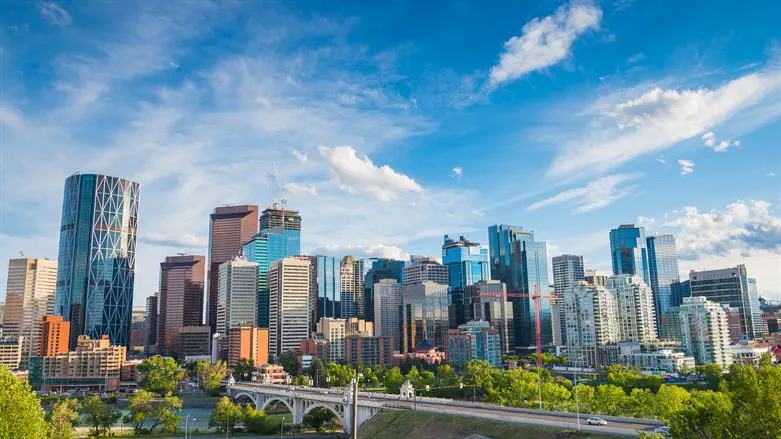 Calgary
iStock
Mount Royal University (MRU) in Calgary, Alberta has disassociated itself from its connection to the Calgary Peace Prize, which drew widespread outrage from the Jewish community after recently announcing the award was going to Mohammed El-Kurd, who holds extreme positions on Israel and terrorism.
According to B'nai Brith Canada, El-Kurd "celebrated suicide bombers as 'martyrs,' openly compared the State of Israel to the Nazi regime in Germany, celebrated the deadly Palestinian Intifadas and has publicly called for violence against Jews."
El-Kurd, a well known pro-Palestinian activist, who has been the "Palestine correspondent" for far-left magazine The Nation since 2021, has a lengthy history of publishing "rhetoric and slander that ranges far beyond reasoned criticism of Israel [into] unvarnished, vicious antisemitism," according to the ADL.
They noted that El-Kurd "has accused Israelis of eating the organs of Palestinians and of having a particular lust for Palestinian blood. He has compared Israelis to Nazis, negated the historic Jewish connection to the Land of Israel, and vilified Zionism and Zionists."
B'nai Brith CEO Michael Mostyn expressed these concerns to MRU's Dean of the Faculty of Arts, Jennifer Pettit.
Following B'nai Brith's complaint, Pettit wrote in a response letter to B'nai Brith that the prize is an initiative of an independent faculty member and not of the university itself.
Pettit also stressed that the views of El-Kurd were not representative of Mount Royal University, adding that the university opposes antisemitism and understands the Jewish community's concern with this year's recipient of the prize.
The Calgary Peace Prize was established at the University of Calgary in 2006 and moved to MRU in 2016. Past recipients include humanitarian activist, retired senator and Canadian Forces Lieutenant-General Roméo Dallaire, Truth and Reconciliation Commissioner and Judge Murray Sinclair, and Supreme Court of Canada Justice Rosalie Abella, whose parents both survived the Holocaust.
B'nai Brith noted that the Calgary Peace Prize was "once a reputable award, while under the purview of academic institutions."
"This week's presentation by MRU faculty member Mark Ayyash to El-Kurd degrades the prize into a theatrical exercise where one controversial individual commends another," the advocacy organization added. "Since 2019, Ayyash has been administering the award independent of any institutional oversight and consequently the award no longer possesses the prestige it once had when associated with the University of Calgary or MRU."
Mostyn denounced the current iteration of the award as an "affront" to the legacy of peace of its past recipients.
"It is important that the public realize that the Calgary Peace Prize is no longer the esteemed accolade it once was," he said. "This current rendition of the award is an affront to its past recipients and it should no longer be characterized as a celebration of peace-loving persons."