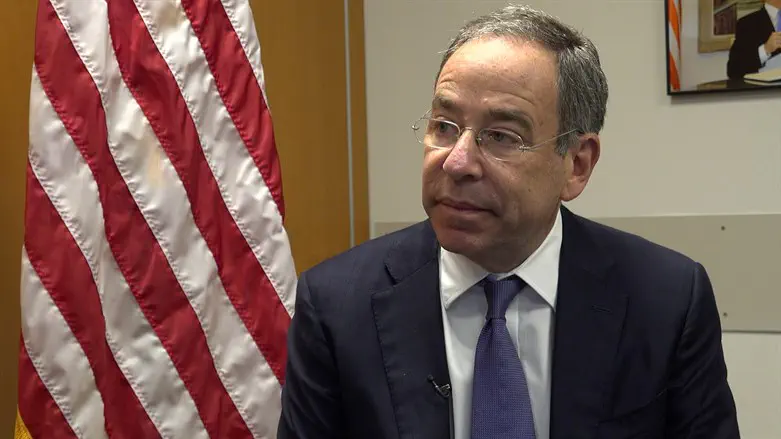 Amb. Nides
Israel National News
US Ambassador to Israel Thomas Nides dismissed concerns that Saudi Arabia's recent rapprochement with regional rival Iran has negative connotations for Israel's growing relationship with the Saudis.
Speaking to i24News, Ambassador Nides said that "the relationship between the Saudis and the Iranians was about the Houthis and the Yemen war."
He said that the US is "happy when things are calm. If the Saudis can have a cold peace with Iran and calm the Yemen situation down ... we're very much in favor of anything that calms things down."
"This has no impact on the ability of the Saudis to have a bilateral relationship with Israel," he declared, adding that the Biden Administration supports the expansion of the 2020 Abraham Accords.
"We're all focused on the Abraham Accords. We're all focused on regional security. The White House is focused on this every day. The State Department is [focused on this] every day. Secretary Blinken: it's something he cares deeply about. The good news is that there is not a lack of interest among the White House or the State Department on the Abraham Accords and the security of the State of Israel."
In March, Iran announced that it had reached an agreement to restore its diplomatic relations with Saudi Arabia, which had been broken off following an attack on the Saudi embassy in Tehran and a Saudi consulate in Mashhad.
The Saudi-Iran rapprochement has been seen as a setback for Israel's attempt to normalize its relations with Arab and Muslim nations as well as for the US, given that the deal was brokered by China.