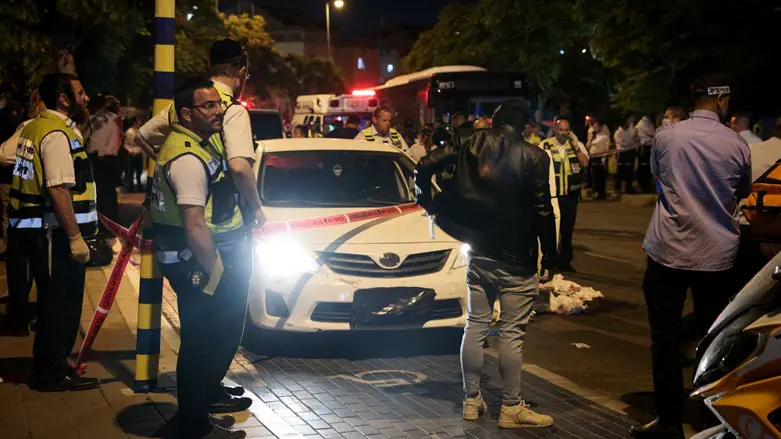 scene of the Elad axe attack
Yossi Aloni/Flash90
The Central District Court today (Tuesday) convicted two Palestinian Arabs for carrying out a deadly knife and axe attack in the city of Elad a year ago. The terrorists, As'ad Yousef As'ad al-Rifa'i, received four life sentences plus twenty years each.
As'ad Yousef As'ad al-Rifa'i and Subhi Emad Sbeihat were convicted of the May 5, 2022 attack in which four people were murdered and three others were wounded. The attack was committed the day after Israel's Independence Day. The fourth victim, Shimon Ma'atuf, succumbed to his injuries in February 2023.
The terrorists were arrested three days after the attack and were indicted in June 2022.
The four life sentences are for murder and attempted murder, while the additional 20 years are for other crimes committed in the course of the attack.
The terrorists were found to have been in Israel illegally. The day of the attack, they contacted one of their victims, Oren Ben Yiftach, at the conclusion of Independence Day and asked him to drive them to Elad, where they claimed to be working on the renovation of a synagogue. When he had driven them to the synagogue, they attacked and stabbed him before looking for other victims. Boaz Gol, Yonatan Havakuk, Shimon Ma'atuf, and Oren Ben Yiftach were murdered in the attack.