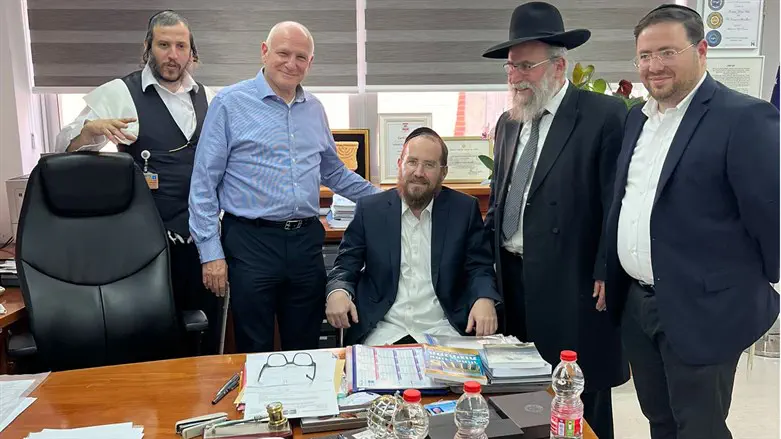 Rabbi Paley leaves the hospital
courtesy
Rabbi Avraham Paley was released from the hospital today (Tuesday), more than three months after he was seriously injured in a terrorist ramming attack in the Jerusalem neighborhood in Ramot in which his seven and five-year-old sons were murdered.
Three people were murdered in the attack, including Asher Menachem and Yaakov Yisrael Paley and Alter Shlomo Liderman.
Rabbi Paley was in a coma for about two weeks following the attack, and was only informed of his sons' fate after he regained consciousness.
Rabbi Paley was hospitalized at Hadassah Medical Center for over 90 days, initially in the intensive care unit before being moved to the rehabilitation unit.
Before leaving the hospital, Rabbi Paley met with the Director of Hadassah Medical Center and thanked him for the dedicated care of the hospital doctors and all the medical staff who spared no effort to treat and heal him throughout his, so that he could finally walk again on his feet and go home to return to his family.
Hadassah Medical Center Director Prof. Yoram Weiss said: "The Paley family was an inspiration to all of us in the way they have dealt with the terrible disaster that befell the family. We strengthen the hands of the family. All of Hadassah is excited today to see Rabbi Paley leave the medical center and return to his beloved family, after a challenging period of complex treatments."