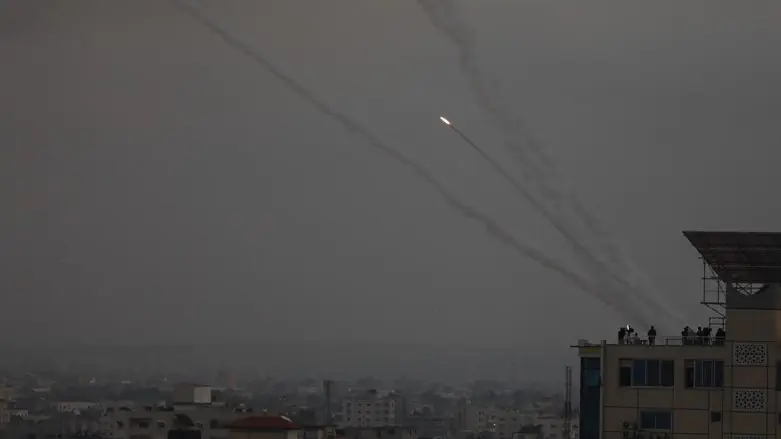 rockets fired from Gaza
Majdi Fathi/TPS
The Defense Ministry announced today (Sunday) that Abdullah Abu Gaba, the Gaza resident who was killed by an Islamic Jihad rocket while working in Israel on Saturday, will be recognized as a victim of hostilities, entitling his family to compensation from Israel's National Insurance Institute, Israel Hayom reported.
Abu Gaba was killed when a rocket struck the construction site outside the town of Shokeda in the Sdot Negev Regional Council, where he and his brother Khamad, who was seriously wounded in the strike, were working. He was a 40-year-old father of six. A third man, who worked as a security guard at the construction site, was lightly injured in the rocket strike.
The brothers were taken to Soroka Medical Center in Be'er Sheva, where Abdullah was pronounced dead.
An investigation has revealed that the protected area of the construction site was not yet completed and that work was being carried out at the site in violation of the Home Front Command's directives during Operation Shield and Arrow.
The Victims of Hostile Action (Pensions) Law states that any Israeli citizen or person who was legally staying in Israel, whether a tourist, foreign worker, or Palestinian Arab laborer, is recognized as a victim of hostilities if he or she becomes the victim of a terrorist attack, and will be entitled to National Insurance benefits. Abu Gaba was one of 17,500 residents of Gaza who had received a work permit to work in Israel, entitling him to legally enter Israel and to be legally entitled to the status of a victim of hostilities and the resulting benefits.
The National Insurance and the Defense Ministry said: "Abdullah Abu Gaba, a resident of Gaza who was killed by a rocket during Operation Shield and Arrow, was recognized as a victim of a hostilities and his family will be entitled to receive rights in accordance with the law."