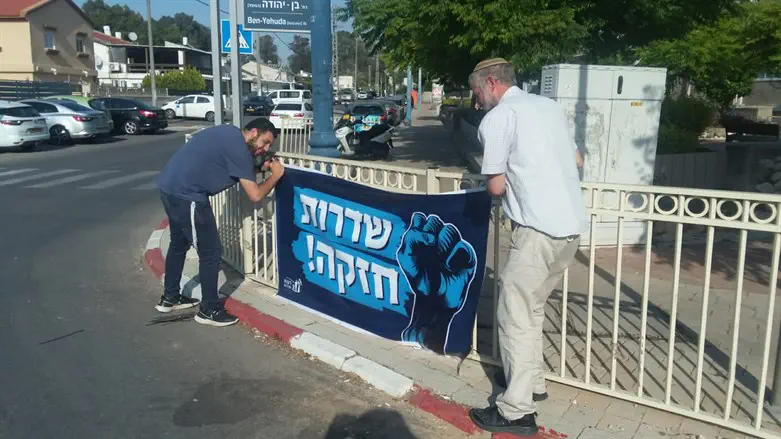 Sderot residents hang a sign stating "Sderot is strong"
Kobi Natan/TPS
In light of the ceasefire announced on Saturday night between Israel and the Palestinian Islamic Jihad terror group, the IDF Homefront Command decided Sunday morning to gradually loosen restrictions put in order during Operation Shield and Arrow.
All restrictions were removed from towns in the Western Negev, Central Negev, Western Lachish, and Lachish areas.
At noon, the restrictions on the Gaza periphery will be removed as well. Despite this, only minimized activity will be allowed in these areas, and educational activities will not take place, this excludes special education, which can be held if the students can reach a shelter on time.
Places of work can operate in places where it is possible to reach a shelter.
Gatherings and services in these regions are restricted to 10 people in open areas and up to 100 in a building. Beaches are closed to the public.
COGAT Maj. Gen. Ghassan Alian announced the partial and gradual openings of the Kerem Shalom and Erez crossings.
The crossings will open entirely per the situational assessment. The maritime zone, which was closed during the operation, will open as well.
Late last night, the Prime Minister's office released a statement: "As instructed by Prime Minister Benjamin Netanyahu, NSC Director Tzachi Hanegbi thanked Egyptian President Abdel Fattah al-Sisi and expressed the State of Israel's appreciation for Egypt's intensive efforts to bring about a ceasefire".
The NSC Director clarified that Israel's acceptance of the Egyptian initiative means that "quiet will be met with quiet" and that if Israel is attacked or threatened, it will continue to do everything it needs to defend itself."
During an address shortly after the ceasefire came into effect, Islamic Jihad leader Zayid Nahalah announced "The end of an additional round of fighting the Zionist project." Nahalah stated: "We lost many of our dear brothers, and we proudly part from them. A nation whose leaders are martyred will never suffer."
The last missile alarm was heard at 11:11 PM due to two missiles that were launched from the Gaza Strip. The Iron Dome intercepted one of them, and one exploded in an open area. Shortly before midnight, the IDF began to strike Jihad targets in response to the missiles, and since then, the border has been silent.