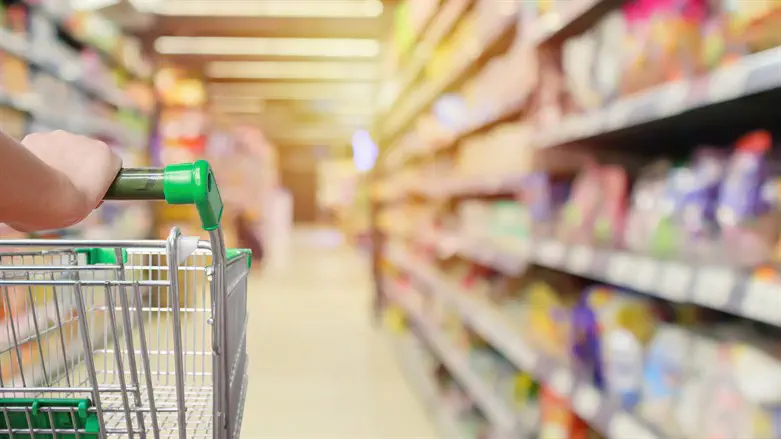 Supermarket (stock)
iStock
In a further effort to combat the sharp increase in consumer products, a unique partnership is seeing Israeli TV personality Guy Lerer teaming up with Eshel Chabad, the food arm of Colel Chabad, Israel's longest continuously running charitable organization, to launch a new discount supermarket.
While fully aimed at providing access to the general public, the collaboration will benefit from preexisting working arrangements with suppliers in the haredi marketplace, who are generally able to offer their customers reduced pricing.
Lerer, whose TV show "Hatzinor" has gained considerable attention for leading the effort to address the escalating cost-of-living crisis in Israel, views this as a necessary next step in that effort. "This supermarket will allow us to partner with haredi suppliers who know how to secure better pricing from their distributors. We invite everyone to join the effort and show that it can't be acceptable that Israeli businesses engage in expensive pricing."
Lerer said that the partnership with Colel Chabad was based on the organization's established record of maximizing purchase power for the benefit of Israel's needy.
The organization, which has been helping Israel's needy since 1788, purchases thousands of tons of ingredients every month which they then pack and distribute to over 40,000 families from all backgrounds regardless of religion, location or background.
The model that will be leveraged in the new supermarket will focus on selling alternative brands that are available at reduced pricing while still offering diverse options without compromising on quality.
Rabbi Mendy Blau, Israel Director of Colel Chabad explained that the initiative is particularly important for Israel's needy. "While the rising cost of living in recent months impacts on all Israelis, for those living with food insecurity, it is a full time challenge," he said. "Our goal in opening this store is to allow people of all backgrounds to be able to live with dignity and feed themselves and their families with access to quality products. Particularly for these families, when prices go up, it's not just an inconvenience or an issue or changing spending patterns. It is truly a matter of children being forced to go without their next meal."
"At a time when there is so much disunity among Israel's people, it's encouraging and inspiring to be part of a project where we can work together for the benefit of all," said Rabbi Sholom Duchman, Director of Colel Chabad.