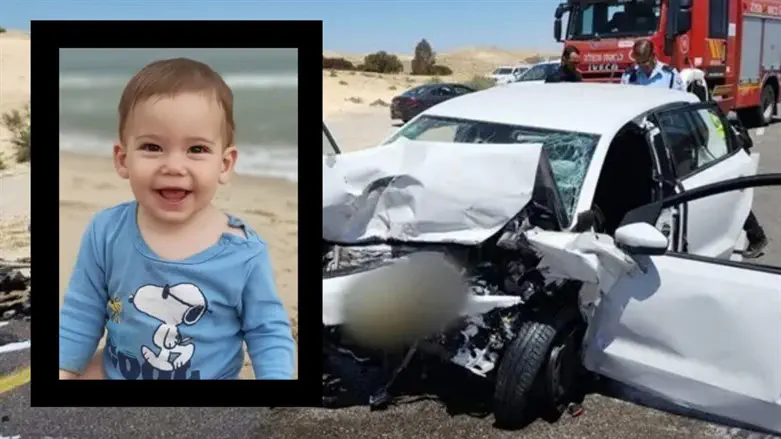 Ma'ayan Domnovitch and the scene of the accident
MDA spokesperson/Courtesy of the family
At Soroka Hospital in Be'er Sheva, Iliya Domnovitch, the father of the family who was injured in the deadly car accident on Route 40 in the Negev that killed his 10-month-old son Ma'ayan, opened his eyes Thursday evening.
Channel 13 reported that his wife, Ayala, who was moderately injured in the accident, informed her husband of the tragedy. The couple's oldest son, who was also severy injured, woke up and is no longer in danger.
In a video filmed in the ICU, Ayala and Iliya asked to thank the people of Israel for their embrace and support during their difficult time: "Dear people of Israel, thank G-d this week I woke up and I was happy to discover the huge hug I received from you through prayers, religious ceremonies, good deeds, and Torah study. Thank you from my entire heart, I am genuinely moved.
Thanks, of course, to the medical team at Soroka Hospital, who gave their heart and soul and managed to pull me out of the condition that I was in," he added. "Now we want to go out on a new path, go home, start recovering."
Ma'ayan Domnovitch was laid to rest last Friday at the Kfar Etzion cemetery while his parents were still hospitalized. His grandfather, Moshe, said, crying: "How do you eulogize a ten-month-old baby? And how does a grandfather eulogize his grandson? How can a father and mother not be at the funeral of their son? It's so difficult."