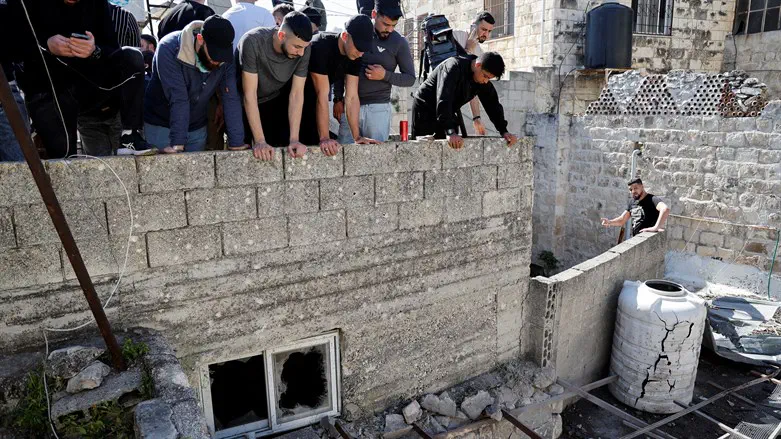 Shechem
Reuters
Hours after the terrorists Hassan Qatna'ani and Ma'ad Masri, who murdered Lucy Dee and her daughters Maia and Rina in a terror attack last month, more details have emerged about the brazen and unusual operation in the marketplace of Shechem (Nablus).
Footage making its rounds on social media shows a group of undercover anti-terror forces, some dressed as women, walking through the alleys of Shechem on their way to the marketplace. Eyewitnesses reported that IDF forces surrounded two houses in the city, where several terrorists barricaded themselves. According to the reports, kamikaze drones were used during the firefight.
During the operation, seven-year-old Yamam dog Jango was killed while protecting the soldiers when terrorists fired on them. According to the Border Police, Jango participated in hundreds of Yamam operations, during which he fought alongside the unit's soldiers to foil terror plots and arrest suspects.
Footage showing Yamam officers dressed as women approaching the terrorists' apartment:
The intelligence regarding the terrorists' location came from the Shin-Bet and led the soldiers and police officers to find the apartment in Shechem's marketplace. Early in the morning, Shin-Bet, Yamam, and IDF forces raided the apartment and killed the two terrorists in a firefight. In addition, the forces also eliminated Ibrahim Hura, who aided them in the murder.
A senior in the IDF Central Command told Channel 13: "Shin-Bet and Yamam forces closed in the building, we used devices on the building. The Egoz unit, the 50th Battalion, and Border Police operated in the periphery of the marketplace to allow a sterile area for the Yamam and Shin-Bet forces. There was shooting and rioting. The operation took an hour. The result was very good. Three terrorists were killed, the terrorists who killed the Dee girls.
I point out the speed of the operation, without it, we could have messed up, and there could have been casualties. The operation is essential, from the attack to breaking up the cell. The speed at which we work eliminates terror. There are no safe havens for terrorists in Judea and Samaria. Not even in the heart of the marketplace. We are in a challenging time, and terror attacks continue. We are in a unique operational situation in Shechem, and we are reinforcing the unit," the officer added.
Defense Minister Yoav Galant welcomed the elimination of the terrorists who murdered three members of the Dee family in a shooting attack in the Jordan Valley.
"Big thanks to the security forces for eliminating the terrorist squad that carried out the heinous attack in Hamra in which Lucy Dee and her daughters Maya and Rina were murdered," Gallant said. "As I promised Leo, the father of the family, the long hand of the security system will reach every terrorist," he added.