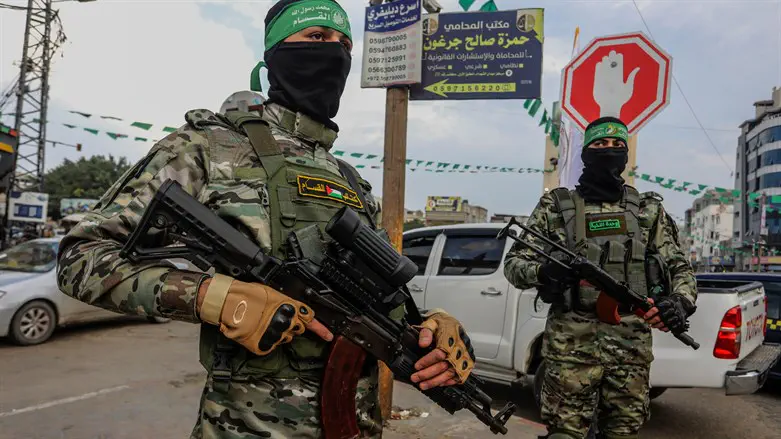 Hamas terrorists in Gaza
Abed Rahim Khatib/Flash90
Zvi Yehezkeli, head of the Channel 13 News Arab affairs desk, analyzes the security situation and wonders how the country reached a situation in which, following the death of a Palestinian prisoner, missiles are fired at it from Gaza.
"Let's see how we got to a situation where a Palestinian prisoner decides to go on hunger strike, and they decide to fire rockets," Yehezkeli began in his interview on Radio 103FM.
"Hamas does not need to fight with us; it can send the Islamic Jihad," he went on. "Several things have happened in the last few months that cannot be ignored and which increase this trend, and this is exactly what happened in Damascus earlier this afternoon. Iranian President Raisi landed in Syria. The last one who was there was Ahmadinejad. Unifying the region, as they did in April over the Passover holiday, shows that Iran has seized a point of weakness here that began in Gaza, then tapping the other sectors. Iran is operating four battleground centers against us, and this is beginning to eat away at Israeli deterrence, which was already shaky anyway. Each such point is a starting point for the next round. We are caught out in our weakness."
He also added that "even if Khader Adnan [the hunger-striking prisoner who died] had survived, there would have been another excuse for attacking us. The Western mind thinks in terms of cause and effect. Our enemies don't see the offensive, proactive, and cunning Israel, and that is the biggest hole in our defense. If the goal is silence, we will buy silence for another two weeks."
"I don't buy the reconciliation between Saudi Arabia and Iran. The Saudis went to Iran because Israel did not keep its promise to do something with Iranian nuclear developments. Israel is dragging her feet. When your goal is quiet, you absorb the missile attacks."
"How do these attacks help in deterrence?" he asked at the end. "The solution will arise when we change our approach, and they understand what they are facing. We are not alone in this game, but we will remain alone in the event of an all-out war. This is not security policy -- this is the IDF, an army that is afraid of Gaza. We have not yet become desperate, and we cannot say we are desperate for the Saudis to return because, strategically, they are on our side."