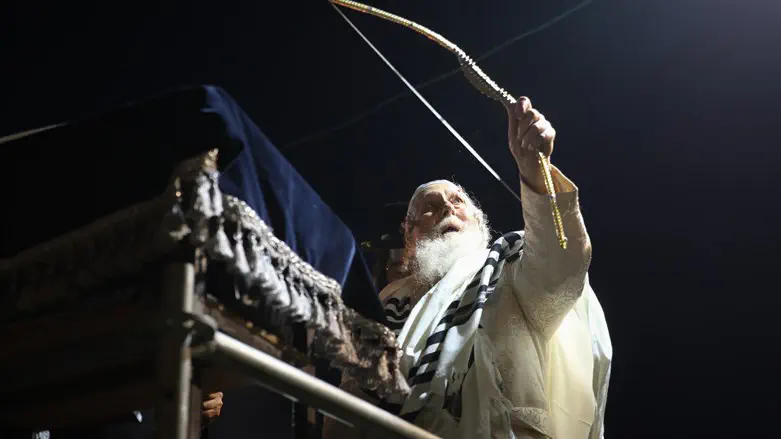 Berland at Mount Meron
David Cohen/Flash90
Israel's Ministry of Jerusalem Affairs and Heritage announced Wednesday that Eliezer Berland, disgraced leader of the fringe Hasidic movement Shuvu Banim, will not light a bonfire in Meron this year on Lag BaOmer.
According to a report by Israel Hayom, a ministry spokesperson who spoke personally with those involved stated that there are assurances that Berland will not be permitted to light the Meron bonfire.
Over the past few days, reports have claimed that Berland is expected to be honored with the lighting of the bonfire in Meron, despite the fact that the Ministry of Religious Services prohibited it.
The reports sparked controversy and drew a series of appeals from various organizations, including from the human rights group B'tselemo and the Haneni organization, which deals with sexual abuse in the haredi sector, demanding that Berland be prevented from lighting the bonfire.
Shuvu Banim initially denied their intention to honor Berland by allowing him to light the bonfire. However, internal messages within the community itself, alongside publications in the movement indicated that Berland would indeed be lighting the bonfire.
MK Tzvika Foghel (Otzma Yehudit), said he is doing everything in his power to prevent Berland from leading the lighting ceremony during the upcoming holiday.
The 85-year-old rabbi fled the country after allegations of sexual misconduct against female followers came to light in 2012.
He managed to evade Israeli authorities until his capture in South Africa in late 2015. Rabbi Berland was finally returned to Israel in July, 2016.
In 2016, Berland pleaded guilty to two charges of sexual assault against two of his female followers, and was sentenced to 18 months in prison.
In 2020, Berland was arrested on suspicion of fraud, after being accused of pretending to have special powers to heal the sick over many years, demanding large sums of money in exchange for "miracle medicine" which later were revealed to be candies.
Berland was convicted and sentenced in 2021 to 18 months in prison.