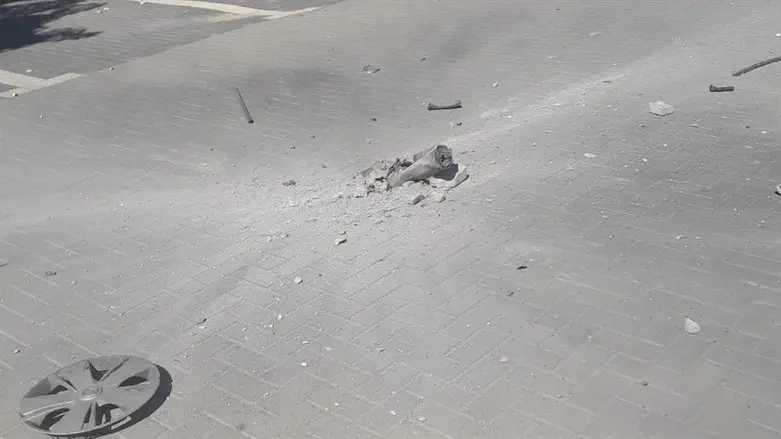 rocket strikes Sderot
no credit
Sderot Mayor Alon Davidi called on the government to destroy the terrorist organizations in the Gaza Strip following the firing of over 20 rockets at Israel this afternoon (Tuesday) and the injuring of three people in his city.
"Unfortunately, we are very used to this reality. We have three injured, one of whom is in serious condition. This reality just repeats itself. In a situation like this, there is a lot of pain and crying that break out. People do not want to live like this. They want to live like every resident of the State of Israel, with quiet and safety," Davidi told Channel 13 News.
"I call on the government and the army, stop the platitudes," added Davidi. "There are two terrorist organizations that control the Strip, and they shoot whenever they want to. They need to be eliminated. We are paying a price. We need to initiate an operation, and do it wisely."
Yisrael Beytenu faction chairman MK Oded Forer blamed the government for the rocket attacks and said: "Netanyahu has returned Israel to the status of a country at the mercy of a terrorist organization - at will the terrorists force the residents of the south to shelters and a will they release them."
"The main thing is that Netanyahu, Ben-Gviir and Smotrich have given immunity to the heads of Hamas, they are showering them with money and they are afraid to act proactively against terrorism," Forer said. "I strengthen the residents of the Gaza envelope and wish a speedy recovery to the wounded."
At least 22 rockets were fired at Israel in a three-minute period Tuesday afternoon. The IDF stated that four rockets were intercepted by the Iron Dome system and 16 fell in open areas. Two rockets struck Sderot, injuring three foreign workers at a construction site. One of the workers was seriously injured, while two others were lightly injured.