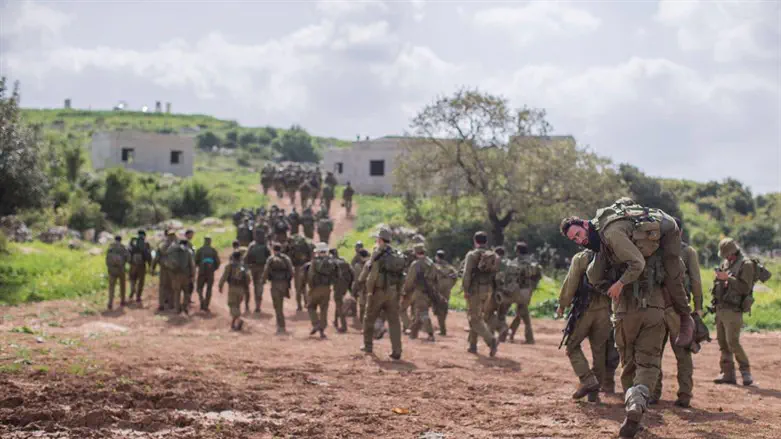 Reserve soldiers in training exercise
Photo: IDF Spokesman
IDF Chief Reserve Officer, Brigadier General (Res.) Benny Ben Ari responds to the phenomenon of refusal to serve as part of the protest against the government's planned judicial reforms and defines the reserves as "a central and essential element for Israeli society".
"Regardless of the current public agenda, the reserve system is currently undergoing a challenging change," says Ben Ari in an interview with Maariv.
According to him, "We are not in a crisis, but in a continuous process of change that takes time. If you look back years, for various reasons, the reserve force was less needed for ongoing security and the reserves were called up for fewer reserve days. The IDF changed its concepts of combat, and more advanced technologies entered the regular army."
He adds that "the multi-arena threat gained momentum and we understood, also following Operation Guardian of the Walls, that we would face all the arenas at the same time: Gaza, Lebanon, Judea and Samaria, and internal security missions related to the army," he says. "We also saw this last Passover, where, because of the security situation, many reservists were also recruited in the special units. We focused on restoring basic competence to the soldiers, weapon security, and training in advanced training facilities, all of which also convey seriousness and efficiency toward the reservists. After that, we added more intensive training in the framework of the platoon, the company, and the battalion – something that began already in 2021."
Ben Ari claims that the security escalation in recent months in Judea and Samaria was another turning point for the reserve system. In recent years, in an unprecedented manner, many reserve battalions were called up for operational activity. "In 2022, the security escalation and Operation Break the Wave, aimed at stopping the deadly wave of terrorist attacks, turned the tide," says Ben Ari. "Instead of training more, reservists were called upon to assist in the ongoing security operations in the various sectors."
In his opinion, refusal is a marginal phenomenon. "The average reservist today feels that he is needed and that he takes a very active part in the defense of the country. He knows that he is protecting the home. In the end, this is the most dramatic change in reservists' feelings, in contrast with the discourse about refusal to serve."
He pointed out that despite the protest of the reservists against judicial reform, in recent months there has been no change in the percentage of those reporting to the reserves: in operational activity, the rate of reporting is more than 90%. However, the attendance rate for training is only 60-70%.
"In the end, it is clear to everyone that when there is a mission and an enemy - everyone comes. It is very dangerous to say that one protests to the extent of being unprepared to answer the call to the reserve forces."